The digital world is evolving faster and faster, so new things are already there until we get the blink of an eye. The world online is growing, so in large parts, our business and private lives have moved to the network. All this affects our life, business, growth, and development … Successful online business requires a good website. And, a lot of work is essential for a good and successful website. Every day we have to work on many little things and mistakes if we want a website to continuously maintain quality.
Online business is becoming more and more popular day by day. Many companies, agencies, and e-stores are increasingly becoming part of the online business world. Thus, the competition is growing, which requires improved services to stand out. Customers/users/visitors know that the competitive market is large, so they are looking for speed, quality, and simplicity. If you are not ready to offer them fast and quality service, they will simply turn to someone else. So your business can fall significantly, related to growth and development.
Websites play an enormous role when it comes to online business. Visitors expect impeccable service when visiting the website. Start with yourself. You would not like to encounter some problems when visiting a website. You would probably never go back to that website again. The most common problem is the unavailability of the website. That happens when you visit the website and see a 404 error. You must be ready for such issues and know how to solve them as soon as possible. This can take a lot of time. However, the broad plugin market can offer you a fast solution.
As many say, this is one of the magic plugins. With WP 301 Redirects, you can forget that you have ever had problems with a website. It will allow you to automatically redirect with a web page, post, or a broken link. But that is not all. This plugin will also allow you to manage associated links. That will be a simple process because WP 301 Redirects has a centralized dashboard that considerably facilitates the work.
If you decide to use this plugin, you will be sure your visitors will never stray to the wrong link again. And even when you change the URL, this plugin will solve all the problems. Changing URLs can often create issues that require a lot of time to resolve. However, with this plugin, it will be solved in the blink of an eye as the plugin tracks every page and URL you have.
Traffic is essential for a website. This plugin will allow you to count only relevant traffic, while unwanted stuff will be ignored. Another better feature of the plugin is that you do not have to build your URLs from scratch, but the plugin will redirect visitors to the right site. This will improve your traffic as visitors stay on your website and will not turn to the competition due to a broken link.
Installing WP 301 Redirects
The process is quick and easy. First, log in to the dashboard and click Download.
Then open the WP page – Plugins- Add new.
Upload the ZIP file, and click on activate, where a notification will appear and lead you to Settings.
You return to the control panel – copy the license key, and save – activate it.
Dashboard
First, it should be emphasized that the dashboard is simple to use, so there will be no problems. It offers many options and is quite flexible. The dashboard allows you to set up a control that guides visitors to the right website, control typing errors, and customize manual redirects… Manual redirects are possible and are most often used with a more complex input URL.
The dashboard is intuitive to use and is very useful. In addition to the listed options, you can access licenses, support, rules, etc. Rules Redirection is a section where you can see existing, active rules and add new ones. Logs are an absorbing section. If you are interested in traffic, where visitors or browsers come from, and the devices that access your website, you will find everything under the minutes.
Redirect
Setting up a divert requires selecting a divert method. Your choice will be the one that will best meet your needs. There are several ways to redirect, and not all are the same. If you currently need one redirection method, it does not mean you will use the same method in a different situation.

Types of redirection:
301 Redirect – The most common and popular way to redirect. If the old page URL is not active, the browser opens the new URL. Simply put, then use this way of redirecting.
Use 302 redirects for temporarily unavailable pages.
Other workarounds are 302 and 307 redirects.
Features
We have already listed some features of this plugin. However, that does not mean that there are no more of them. With each plugin, it is essential to look below the surface – to explore the plugin. This will open more doors for you, and you will have more flexibility in working with the plugin. We could say that ease of use and speed are the fundamental characteristics of this plugin. But that's not the end of the story, as you know. WP 301 Redirects also has the ability to use redirection to clear associated links and hide extra long links. You can customize the name, logo, and URL to suit your company/brand.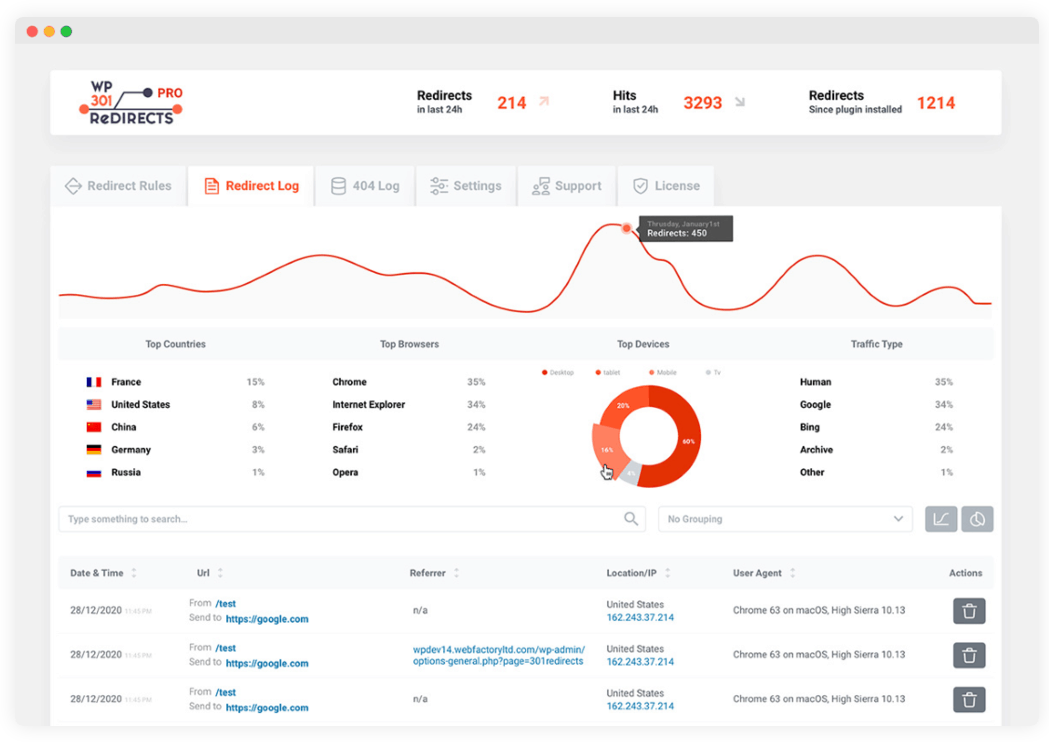 It is essential and absorbing that you can discover the distances your visitors are coming from and which browser and device they are using when visiting your website. This is very important for the analytics of your website. You can create reports based on that.
Final Words
As you have had a chance to see, WP 301 Redirects is a totally magical plugin. Of course, in a short text, we could not list all the advantages of this plugin and elaborate on them in detail. We leave that job to you and your research. But be sure not to make mistakes and waste time. Do not let your visitors ever come across broken links again when visiting your website. Let that problem stay behind you forever with WP 301 Redirects.