With increasing digitalization, we have mostly moved our lives online. Social networks have become part of everyday life, and the business world is mostly moving to the network. So, when we talk about the sales part, we can say that e-commerce is in development.

E-commerce is not an easy job. It consists of many components that are the path to success. And to achieve the goal, it is necessary to keep all the elements under control. One of the main components of e-commerce is delivery. It can affect sales in many ways, especially materially.
If you are already into e-commerce, you have probably heard of WooCommerce. Woocommerce can be defined as an add-on. In fact, it is an add-on installed in WordPress that is used to create a functional online store on one page without the need for programming knowledge or many computer skills. Today we will present a plugin that will make it easier for you and remove all the problems related to delivery.
WooCommerce Table Rate Shipping
E-commerce varies. Each has different needs and services, and so do delivery needs. WooCommerce Table Rate Shipping is a plugin that gives you options that you can customize to your e-commerce. For example, it allows you to use a powerful feature to set up delivery for especially registered customers. Customers who are logged in to WooCommerce enjoy many benefits and incentives, so if you are not already a member, it would be time to sign up. This plugin really makes the delivery job easier. In addition to customization, you can even calculate shipping costs based on weight, item number, or price. The best part is the ease of use. WooCommerce Table Rate Shipping has an easy-to-use panel where you can calculate shipping costs according to your criteria.
The WooCommerce Table Rate Shipping plugin offers two versions. The first version is free and has the following features:
Set unlimited conditional shipping rate.
Set multiple shipping rates for zones like Country, State, or Zip/Postal Code.
Shipping cost based on Total Price.
Shipping cost based on Total Weight.
Show selected shipping methods only for logged-in users
Add taxable/non-taxable shipping rates
Translation ready
PRO is another version. It has the same features as the free version, with a couple of additional upgrades:
Calculate shipping rate based on the weight of items (lbs/kg)
Calculate shipping rate based on the number of items in the cart
Calculate the shipping rate based on the total price of the cart
Calculate shipping rate based on the item count
Calculate shipping rate based on the combination of item count and total price
Support WooCommerce build-in shipping classes
Set shipping rates for any class or specific WooCommerce class.
Shipping handling fees for each order
Option to add estimated delivery Date
Premium support
And many more…
Installation
Unzip the downloaded zip file and upload the plugin folder into the wp-content/plugins/ directory. Alternatively, upload from Plugins >> Add New >> Upload Plugin.
Activate the plugin from the Plugins page.
After installing and activating the plugin, you go to the "Settings" menu from WooCommerce. Then:
Click on the shipping tab.
Click on Add shipping zone.
Customize Zone name and Zone regions. Then click on the "add shipping method" button and select the Table Rate Shipping option.
Finally, click On "Add new" and customize all.
New product
Adding new products can be a tedious job. However, this plugin will allow you to add a product while determining its price. It is possible to configure the table for one or all products. Shipping costs will also be calculated for customers without a WooCommerce account.
Setting Up the Shipping Zone and the Shipping Method
Once you have added the product and determined its price, it is time to direct the delivery zones. They refer to the geographical region. Delivery zones need to be controlled if you do delivery in different parts of the world due to different billing rules and structures. Also, the distance you send the product is essential for delivery because a long-distance creates higher costs. In order not to be in the red due to delivery, set the delivery zones immediately.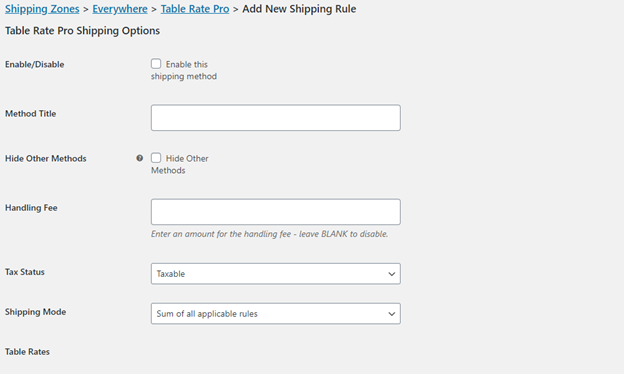 Once you have determined your delivery zones, it is time to move on. Very closely related to delivery zones are delivery methods. Why? Each zone has its own rules, so you may have different shipping costs in different zones. That is why it is essential to limit some zip codes. This plugin has the ability to include strategies for delivery methods that suit you – night, express, freight, or standard. If your e-commerce needs a special delivery method, that is no longer a problem. Some products are specific and cannot be shipped by default. That is why this plugin has given you a variety of ways.
Handling fee

We have already mentioned that there are ways to calculate shipping costs. You may not even know how useful this feature is now, and you may have been longing for it for a long time. With the use of this plugin, you will be able to calculate your business which will make it even easier for you. And with all the benefits, the overall result will be accurate.
Logged in user rules
Here is a basic outline of the procedures you can follow in a sequence.
Add a new product with WooCommerce Table Rate Shipping.
Configure the shipping method. First, you add a shipping zone, then the shipping method. We have explained those steps above.
Then add the shipping methods to the Table Rate Pro.
Configure the condition and rate for your Not Logged In shipping method as required.
Configure the condition and rate for your Logged in only shipping method as required.
Then go to the store where you will see the sample results.
Final Words
As we said at the beginning, we are aware that running e-commerce is not an easy job. With all the conveniences of this plugin, all the jobs around delivery will be a piece of cake for you. The developers who developed WooCommerce Table Rate Shipping thought of just about everything. Although problems in the business world are always present, this plugin will do a good job of fixing them.