Web developers and marketing firms often do not have time to handle several websites. Then they embark on an adventure of finding the most ideal solution to their problem. But when you are in a large business, who do you trust? How to choose the best resolution? What best suits your needs? These are the most common questions they face. Do not worry. Now we have found the perfect solution for you – WP Reset.
This is a plugin to help you ease managing and keep your sites functional. Over a million websites have placed their trust in WP Reset. Looking for credibility? We just explained it to you. You may now be in a dilemma as to whether WP Reset is worthy of your trust. Of course, it is. Let's make sure together and take a look at the overall review.
WP Reset – the perfect solution
Resetting a WordPress page can often be a problem. WP Reset is one of the best plugins on the market to solve this problem. As we have already mentioned to you, a large number of users have given their trust to WP Reset. That is why we are not surprised by the 5.0 rating. One of the main features is the ability to return to the default data installation values. And all this without changing the files. You can remove selected parts, modifications, or content.
If you have been a WordPress user for a long time – you must have heard of this plugin. However, even if you have not heard, it is time to remove all your dilemmas and solve problems. WP Reset offers a free plan and a Pro plan. The PRO plan offers a version in which the already existing features have been improved. But we will talk more about that later.
WP Reset has a built-in snapshot, so you can restore everything with one click. It is easy to use and fast. Most important of all is that WP Reset creates a secure environment. You can never lose data by accident because different techniques of failure have been developed. Simply than ever, you will be able to restore settings and test code.
Select the reset way
WP Reset is simple to use. But do not rely on that simplicity. Although you have no experience, you can handle this plugin. But if you allow yourself to embark on an adventure, only the sky is the limit.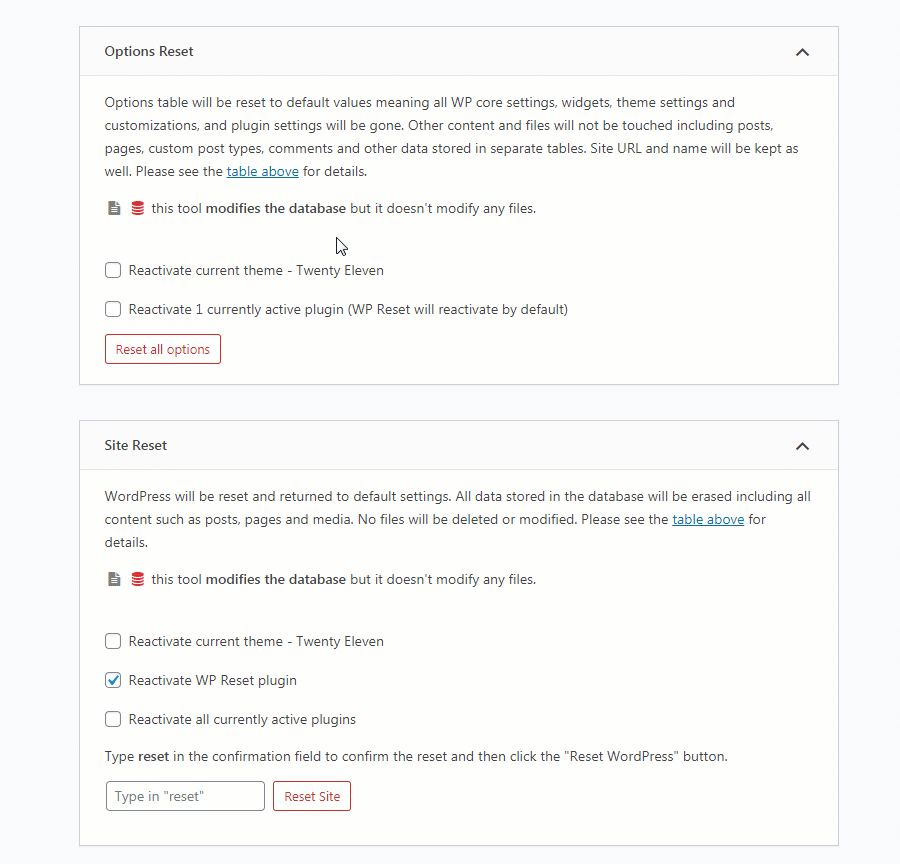 Simple reset type – site reset
This type is the traditional reset type. One click and everything is permanently deleted. When you select this option – posts, pages, comments, etc., will be deleted. And forever. It is crucial to have a backup in some form if you want to choose this option. You never know what information you might need. You can also make a recording, as we have already mentioned.
Nuclear reset
Interesting name, is not it? As the name suggests, a nuclear reset is about erasing everything in its path. The bomb was dropped. And what now? You are left with the basic tools for running the site, such as username and default functions. To use this reset method, we warn you to be absolutely sure that you really but REALLY want it.
Options reset
The function of resetting options – finally! This choice is the simplest of those offered. Perhaps the least intimidating? You can reset all changes, basic WordPress settings, themes, plugins, etc. The two previous choices may have scared you a little. However, they have a security framework for the text, which this way of restoring does not really offer. This does not mean that the changes are not final and that you do not need to have a backup.
Selective reset
This reset method is used to customize the site. However, you can also use it to modify some segments of the page. You can use it to reinstall the aspects you need.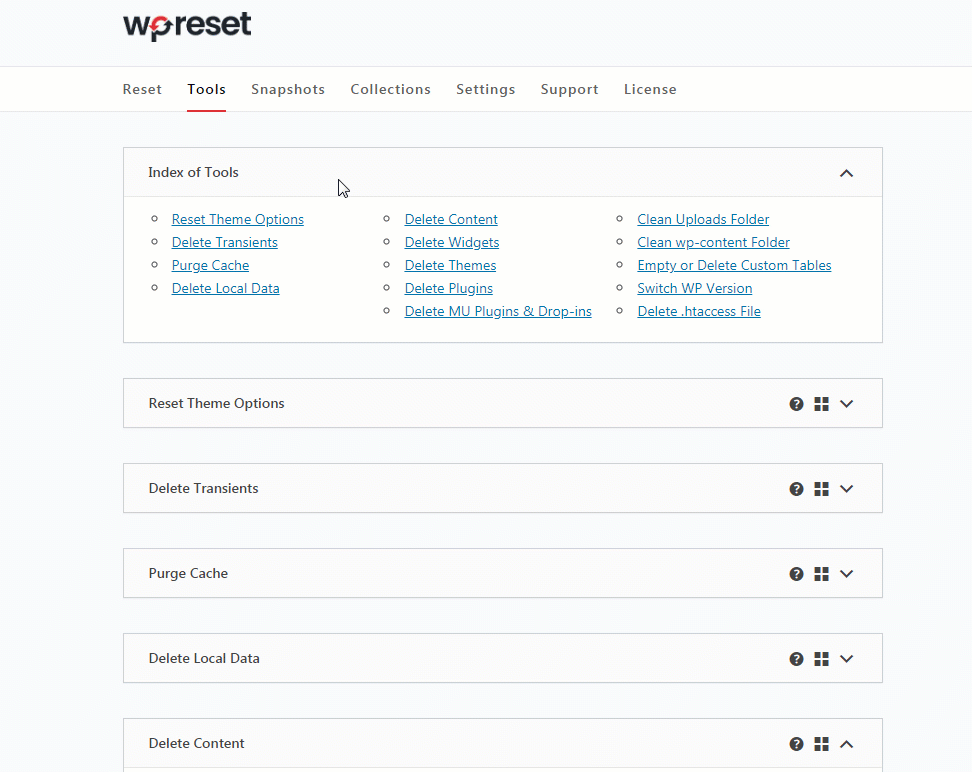 Free vs PRO plan
Free version key features:
RESETTING WILL DELETE:
all posts, pages, custom post types, comments, media entries, users
all default WP database tables
all custom database tables that have the same prefix table prefix as the one defined in wp-config.php and used by default tables
RESETTING WILL NOT DELETE OR MODIFY:
media files – they remain in the wp-uploads folder untouched but will no longer be listed under Media in admin
no files are touched; plugins, themes, uploads – everything stays
site title, WordPress address, site address, site language, and search engine visibility settings
currently logged in user will be restored with the current username and password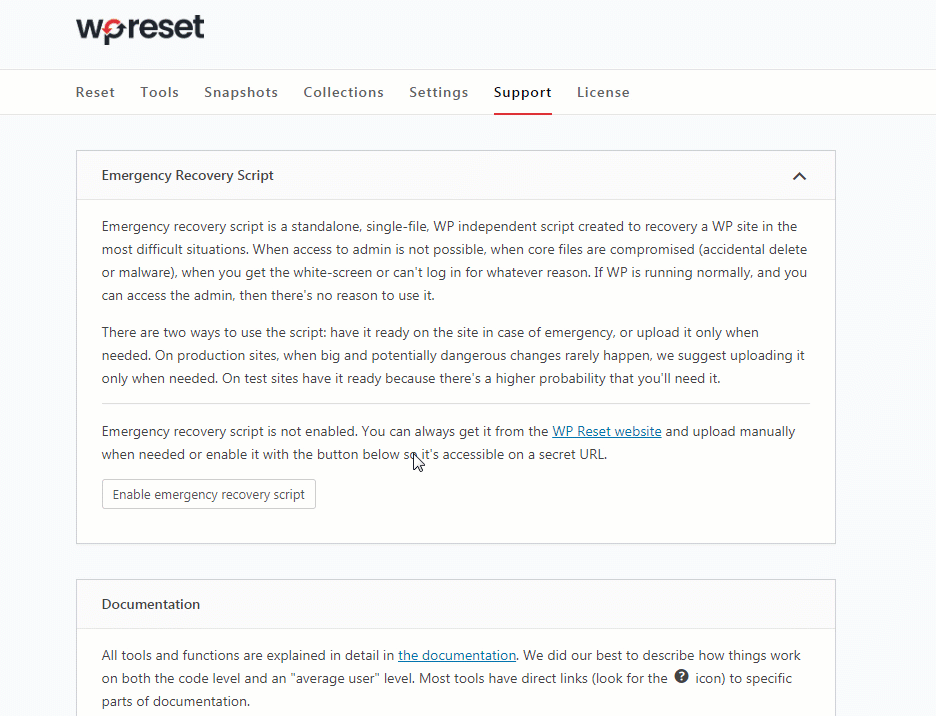 PRO version key features:
Your Own Time Machine
Install Favorite Plugins With 1 Click
Your Personal WP Superhero
More Cleaning Tools
Nuclear Reset
Whitelabel Option
Automatic Snapshots
The Cloud
Centralized Management
WP Reset Dashboard
The control panel is a new magic accessory for WP Reset, and it is not different from other plugin control panels. It is easy to use. The only difference is in the features for free and PRO plan. You can download the add-on directly from the control panel, and the download is separate from the license, website, and purchase card. With the PRO plan, you can track websites and your licenses.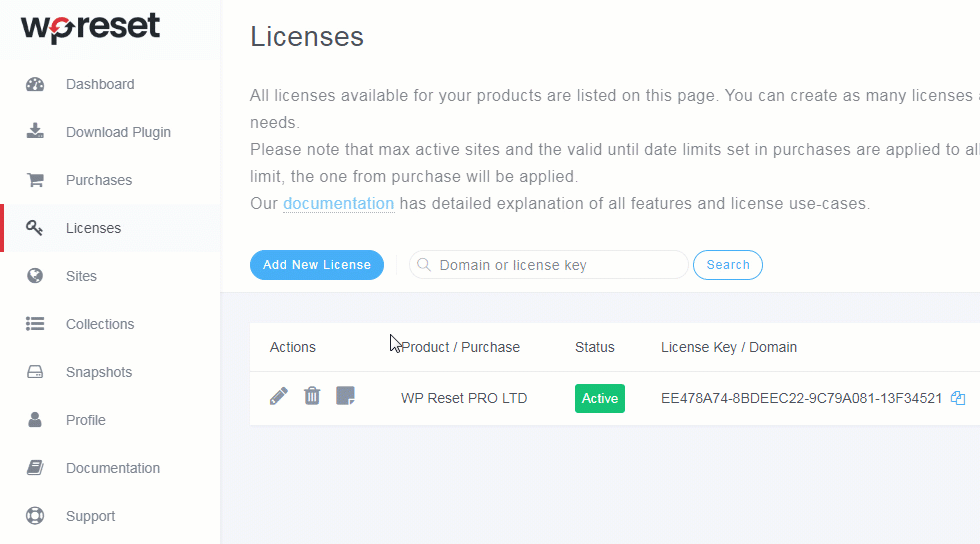 WP Reset Snapshot
This is one of the best options that WP Reset offers. The recording can be used for various purposes. The automatic snapshot feature means snapshots are created when something in the platform core changes. It allows you to keep track of changes and plan future actions. If you have repented of a change, the recording will allow you to undo the change. Also, this is not an option you have to use. Automatic recordings can be turned off.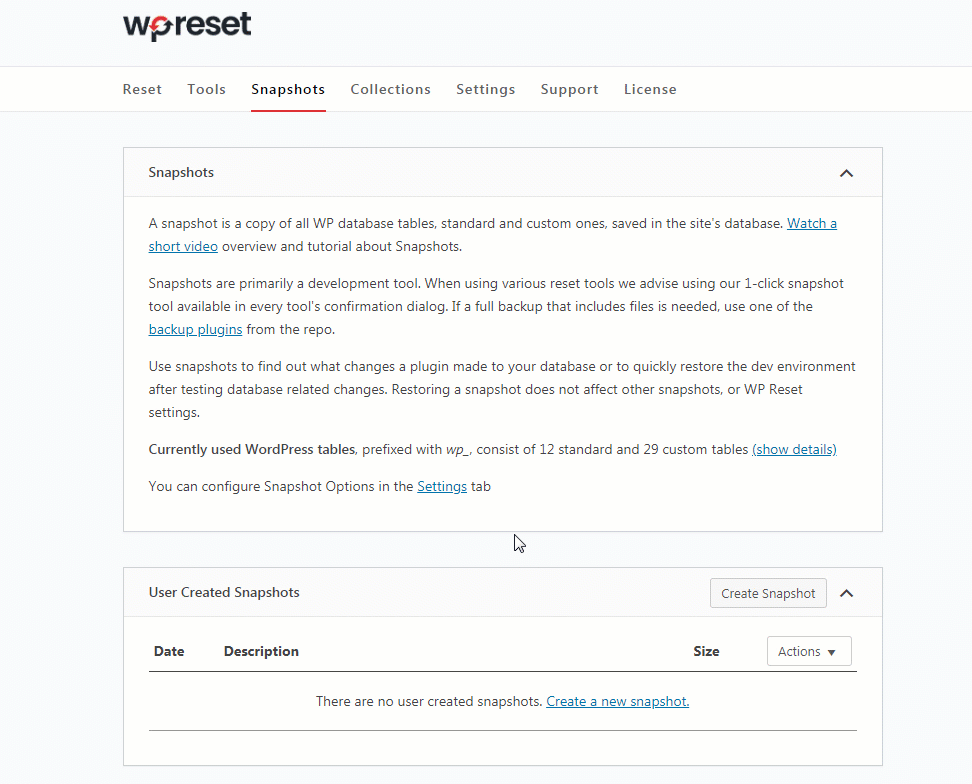 Conclusion
Are you confident after this review? Although the WP Reset is described in a little more detail, we have not been able to explain all of its features. Scratch below the surface and embark on an adventure. With WP Reset, your problems can be solved with additional time savings. Good luck with the use.