Adding a map to your website can be a tremendous asset. Maybe you want to show your customers where your business is located, or maybe you want to pin all of your favorite places to eat in a city? All of this can be done by using a mapping plugin. Mapping plugins for WordPress are handy tools, but more often than not, they can be sparse, and you can find yourself in a position of having to install a few of them to get every feature you want. Today, we'll give you a quick rundown of an all-in-one WordPress mapping plugin, so stay tuned.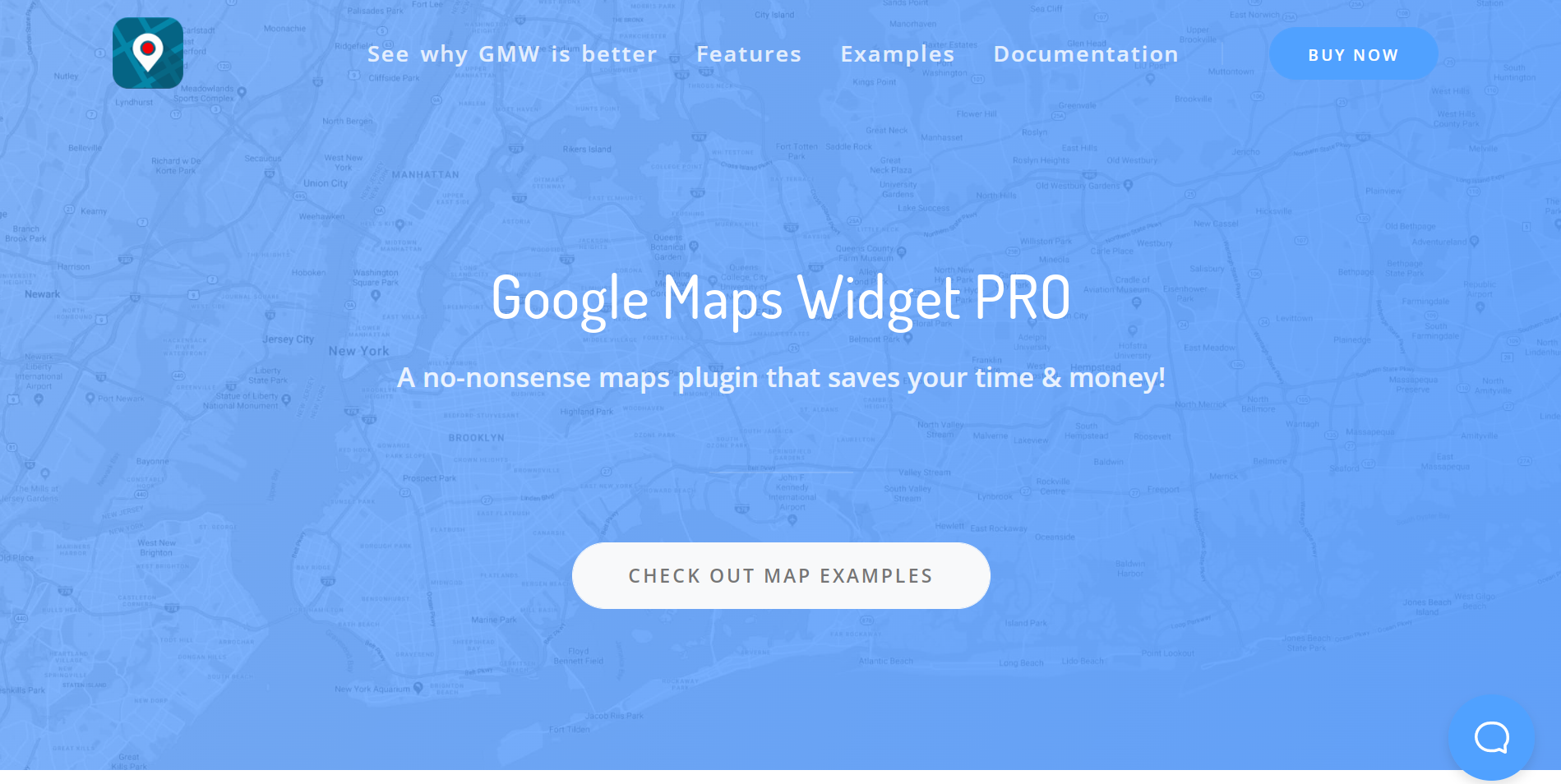 Google Maps Widget is a mapping plugin for WordPress, and it's definitely the best one in the business. Users love this plugin, and it has over 100,000 active installations, with the number only growing each day. Just as many other WordPress plugins, Google Maps Widget is a freemium plugin, meaning it comes both in a free and premium version.
The free version is a bit more bare-bones but still gets the job done. It's also an excellent choice for those that like to try out the plugin before they go the full mile and purchase the premium version. The pro greatly builds on the features and capabilities of the free version and provides significantly more customization choices.
One of its greatest selling points is that no matter how detailed a map is, it will not slow down your site – this plugin is lightning fast. Many people are hesitant to install a plugin such as this one for fear of their site slowing down. And their doubts are not without merit; statistics show that if a website takes longer than 2.4 seconds to load, most visitors will abandon it and never return.
Fortunately, this plugin will never cause such a problem, even if you have pins on every continent or if your users want to interact with it. It'll function just as effectively, no matter the setting. Its speed is impressive largely due to how the plugin was designed. The maps added via this plugin are only a picture when you initially load the page. But, when a user clicks on it, it becomes active. That's the brilliance of it all.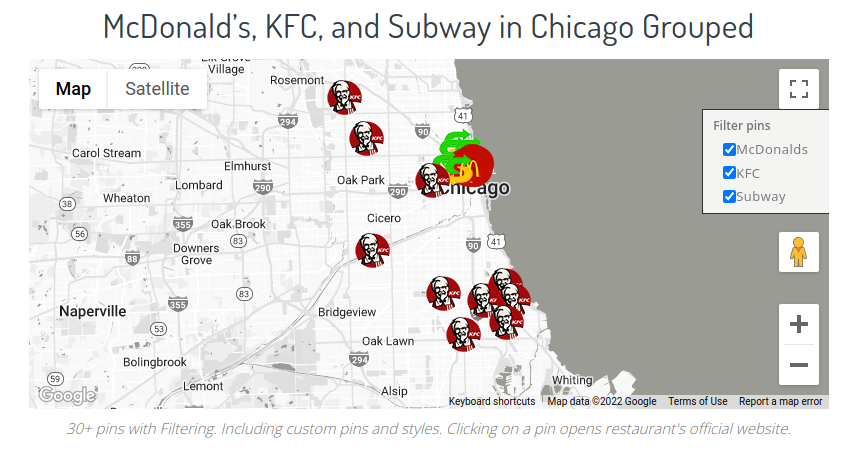 Aside from that, the maps are nearly endlessly customizable, making them simple to integrate into your site. The pins can be modified and personalized, and if you should ever want to, they can even include your brandings, such as logos or company colors. Speaking of colors, colors abound, maps of various sizes are accessible, and the plugin taps into the power of Google Maps, so it can do all of the heavy lifting.
The Google Maps Widget is also updated on a regular basis, which may not seem like a significant issue at first but can make a big impact in practice. This verifies that the plugin is safe to use and that the creators haven't forgotten about it. Many plugins become buggy and can serve as a backdoor into your site for hackers when abandoned. With Google Maps Widget, you'll never encounter such a problem.
Features
Ease of use – This plugin is incredibly simple to set up and use. Even if you have absolutely no prior experience with WordPress or web design, you can have a sleek, interactive map on your site within minutes.
Super customizable – Design matters, and no matter the number of elements on your site, they all have to match. Every pin and map you add is easily customizable and can be changed at any point.
Unlimited Maps – Want to add one map to show where your business is located? Want to add a map for every place you visit so your viewers can follow in your footsteps? Not a problem; with Google Maps Widget, you can add as many maps as you want.
Responsive – It doesn't matter if users are visiting your site on their laptops, tablets, or mobile phones. Every single map will adapt to the layout and will look perfect each and every time.
Map layout – You have complete control over how the map appears and what it displays – directions, street view, distance, whatever you want.
Pricing and Support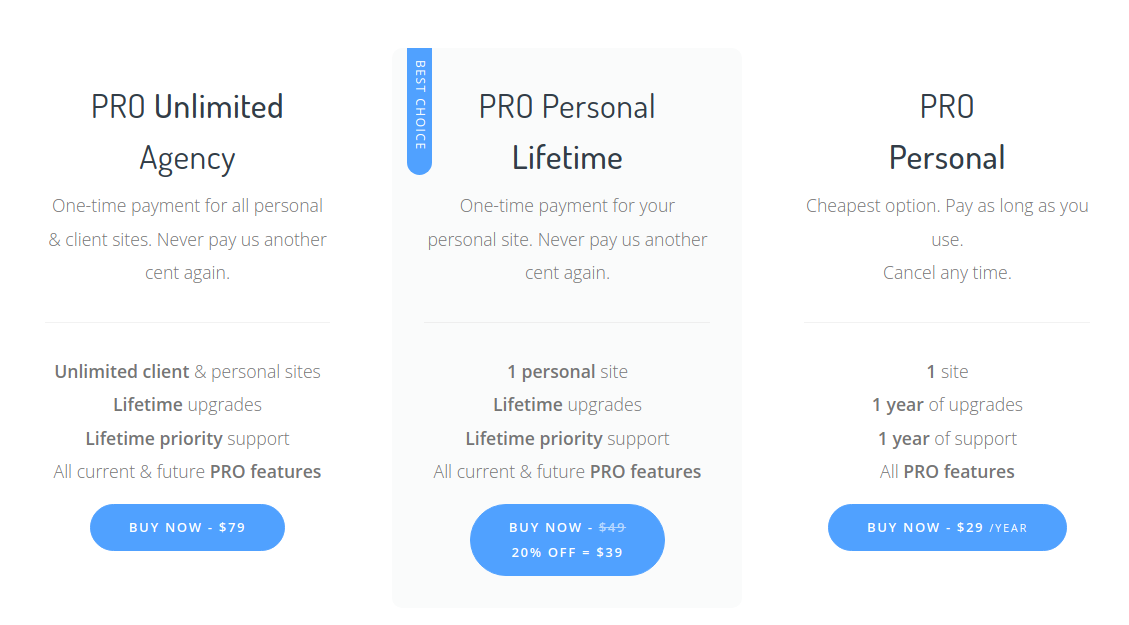 If you're thinking about purchasing this plugin, trust us when we say it's well worth it. You'll have to pay either $ 29 per year or $ 39 for a lifetime subscription. In the grand scheme of things, this is a rather modest price for a premium plugin with this many features and the ability to maintain your site's performance at the top of the game. Yes, it can seem like a steep sum at first, but all of its features combined essentially equal having two or three similar plugins installed simultaneously.
Plus, when it comes to supporting, you'll never have to worry. You'll always have access to polite and quick help from the developers as long as you own the plugin – no outsourcing.
Final Thoughts
What else is there to say? Google Maps Widget is quick, easy to use, customizable, and reasonably priced. It gets a gigantic thumbs up from us and a guaranteed seal of approval. If you decide to give it a go, let us know in the comments below.