Website security has never been more important than it is today, given the amount of personal information that circulates online. Whether it's your emails and passwords or your credit card information, it's important to only give this information to trusted and secure online sources. You may wonder how website owners ensure that their pages are completely secure, allowing you to share sensitive information without fear of being attacked by hackers. This is where SSL certificates come in handy. If you're scratching your head in wonder, don't worry-we'll explain everything. Just keep on reading to find out everything you need to know!
What Is SSL and Why Do You Need It on Your Site?
To put it into simple terms, SSL certificates apply a protective layer to your website and verify your website's authenticity. This "protective layer" allows for an encrypted connection, which means that any data exchanged between the website and its users end up scrambled in the process, making it impossible for attackers to decipher any sensitive information about either party. The easiest way to check if a website is secure is by looking at its URL. Secure websites have a padlock icon on the left side of the URL, as well as the HTTPS acronym (Hyper-Text Transfer Protocol Secure) at the beginning. These are the websites you want to be on, so let's take a look at how you can make your website secure too.
How Much Does It Cost?
Before we get into details on how to obtain an SSL certificate, we believe it's important to discuss how much the whole thing costs. The price depends on various factors, the main one being the number of domains you want to get verified. Single domain SSL certificates average around $5 a year, but these certificates only secure one domain, whereas multi-domain certificates cover all of your domains and their subdomains, and these go for roughly $60 a year. No matter what your website is about, investing in security is never a bad idea.
Can I Get SSL for Free?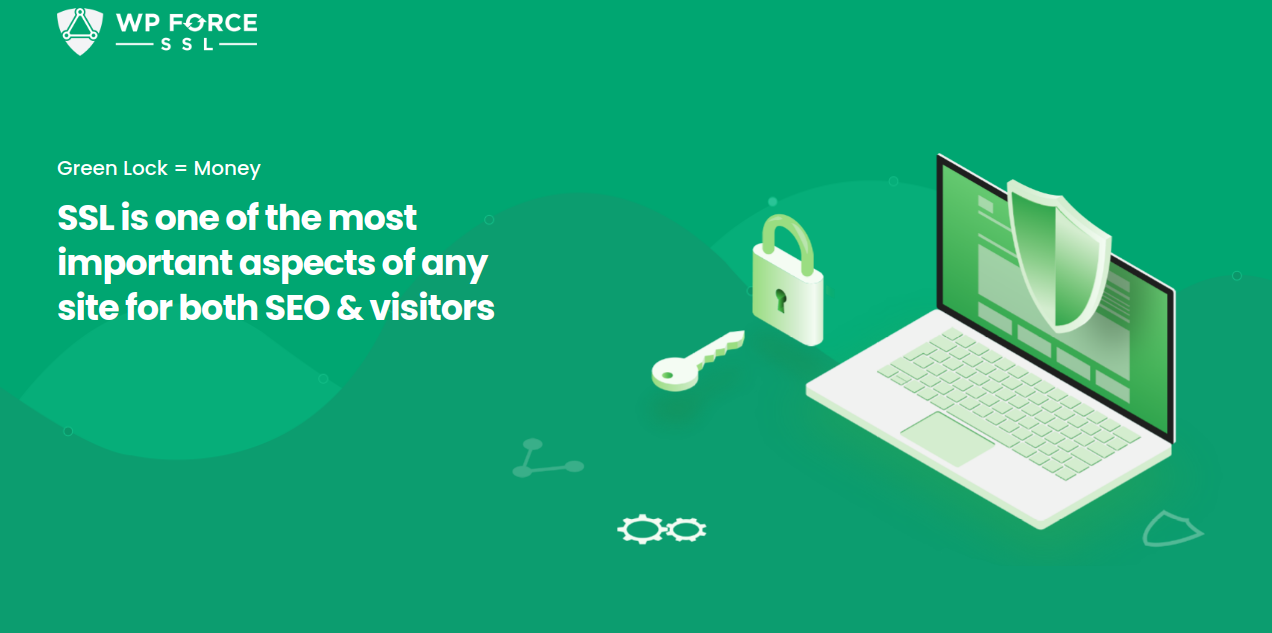 However, if your website does not process payments or rely on sensitive information like e-commerce websites, you can install a free SSL certificate instead. Let's Encrypt, for example, is a certificate authority that provides free certificates that are just as secure as paid certificates. The only difference is that it only provides Domain Validation (DV), whereas other paid certificates may provide Organizational Validation (OV), which is necessary if your page contains payments and login information. Anyone with a domain can obtain it, and it automatically renews in the background, so you never have to worry about your certificate expiring! If this sounds appealing enough for you to give it a shot, let's see how you can do so with our WordPress plugin, WP Force SSL.
How To Install It
Before you can obtain your free SSL certificate, you first have to go through a quick installation process of the WP Force SSL plugin. It's pretty simple, as you are required to confirm your email and set up your password after your successful purchase. Once you've set up your login information, you will gain access to your "Dashboard" account. A popup with the download link will appear right away. After you've clicked on the link, you need to save the ZIP file to your computer, and then install and activate it on your WordPress website. You activate the plugin by entering your license key, and voila—you're all set to begin securing your website!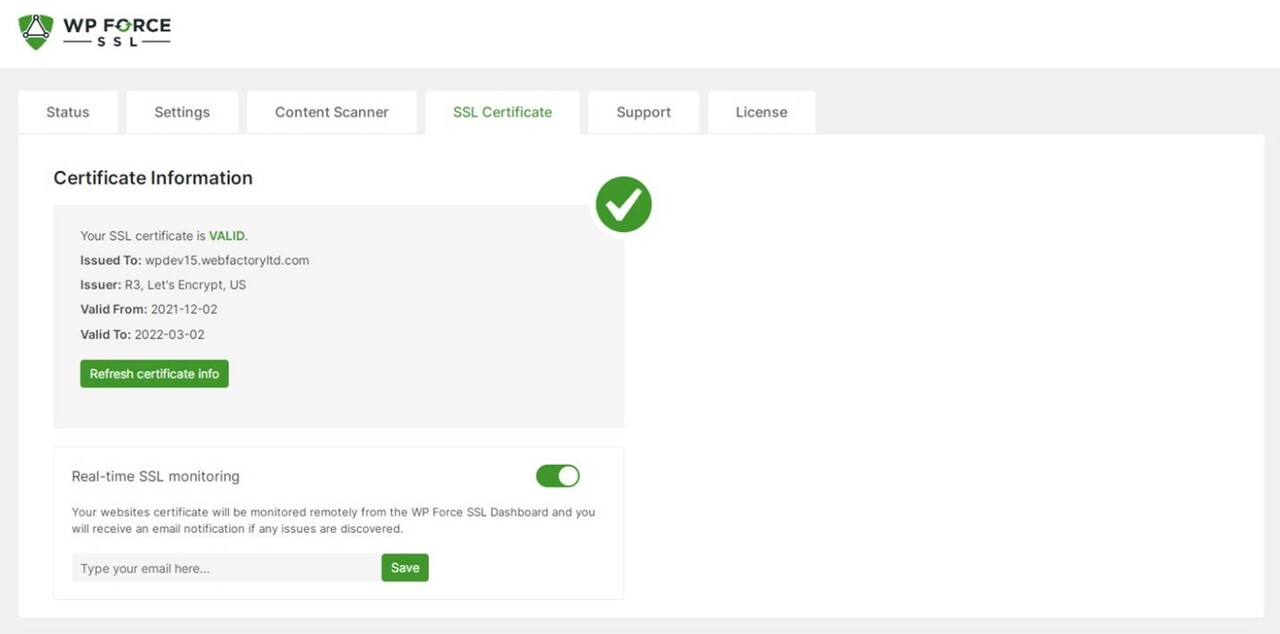 Real-Time SSL Monitoring
Your next stop is the SSL Certificate tab once your plugin is updated and ready to use. The validity of the SSL certificate you are using, the date it was validated, who issued the certificate, and who received it can all be found here. This is where you can discover all the information you need about the SSL certificates used on your website. Thankfully, the plugin takes care of the scanning for you and notifies you of any certificate problems on your website. If you don't already have that free SSL certificate we mentioned, now is an excellent time to install it.
Generate a Free SSL Certificate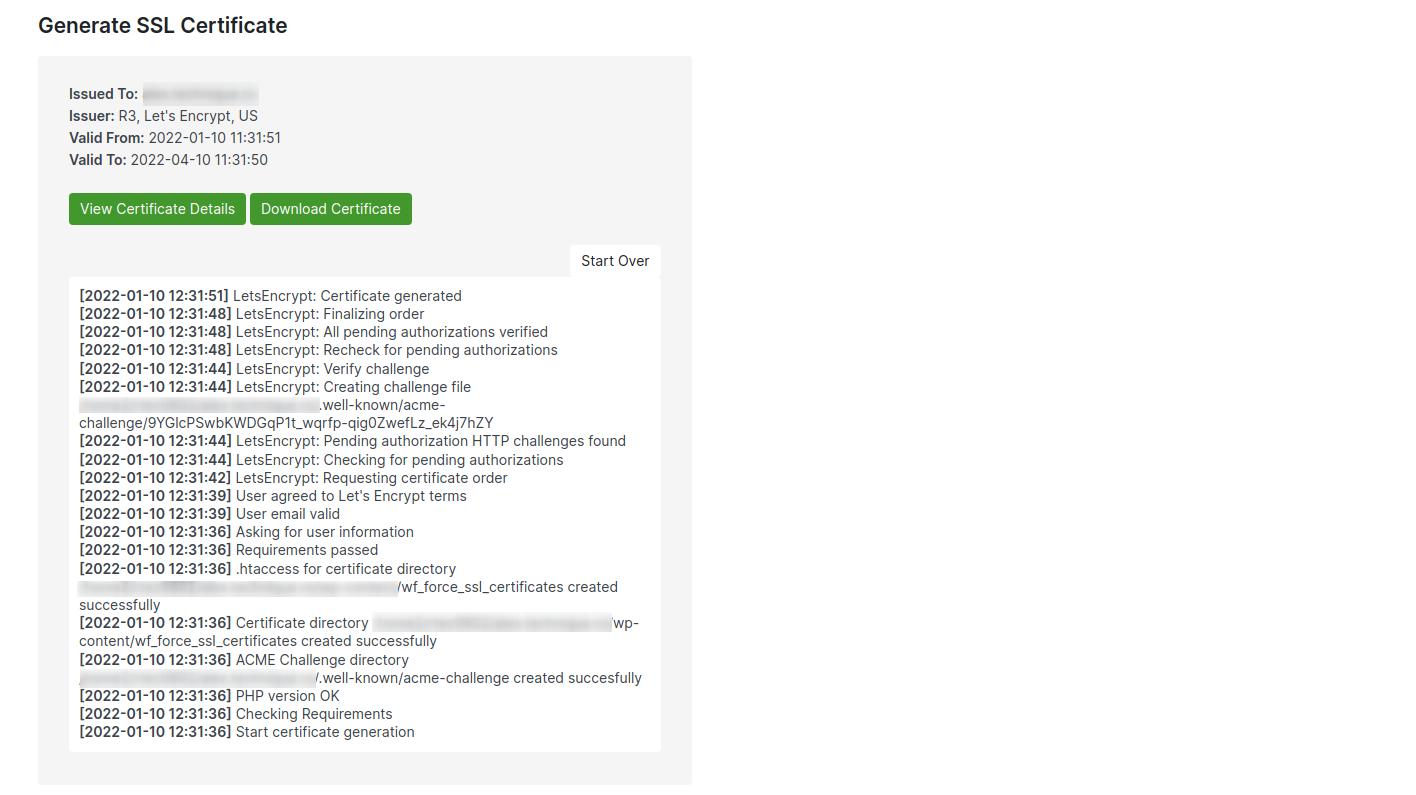 By clicking on the "Generate SSL Certificate" at the bottom of the page, you are asked to enter your email address. You simply need to click "Next" after checking the box indicating that you accept the Let's Encrypt Subscriber's Agreement to finish the process. You will be able to obtain the details of your certificate after a short while. Although the installation of the certificate will differ from host to host, don't worry—none of them is difficult to complete. It's also worth noting that once authorized through the plugin, this certificate will automatically renew every 90 days for as long as the plugin is installed.
Conclusion
There is no denying that people are becoming more cautious about the information they share online. In a way, securing a website is a moral duty of each website owner, as your primary goal should be to protect your users, as well as yourself—so why not secure your website today? The WP Force SSL plugin offers a lifetime license for agencies at only $119 for up to 100 site licenses, which paired with a free SSL certificate is a definite steal!