Links are so common on any website that we all probably forgot why they are so important, and why proper and fast management of them is essential for your website.
For Search Engine Optimization (SEO), links are the core of its functionality. SEO use links in two ways: as a way of discovering new web pages, and to determine page rank.
The quality of links will increase the SEO rankings of your site, and your site will generate more traffic.
To help you successfully manage all your site's internal and external links we made a list of the best free links management plugins for WordPress: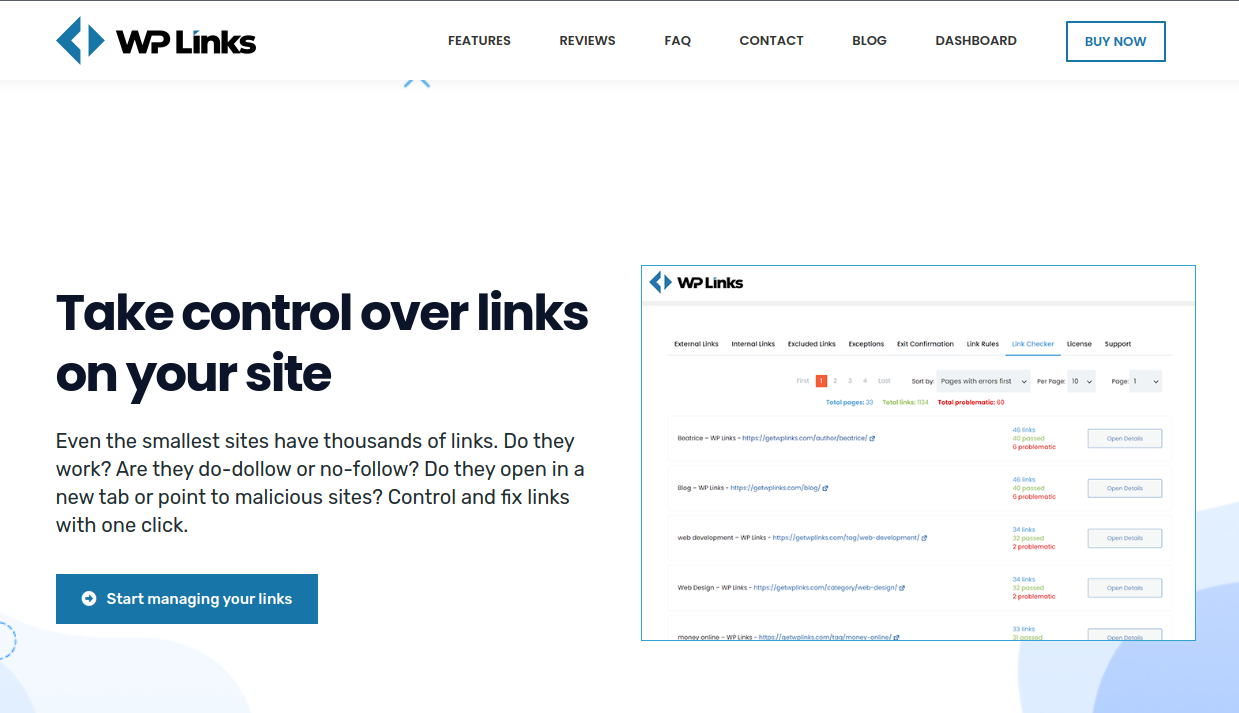 WP Links plugin is an excellent one. For any serious website owner a "must-have" plugin for managing all external and internal links.
When you use WP Links to fix and check links on your site, other content on the website will remain the same and without change. Other contents mean all the posts, widgets, other pages, etc. They all will remain in the site database.
Use WP Links plugin to have all links under control: icons, nofollow, noopener, User Generated Content, and all sponsored links on your site.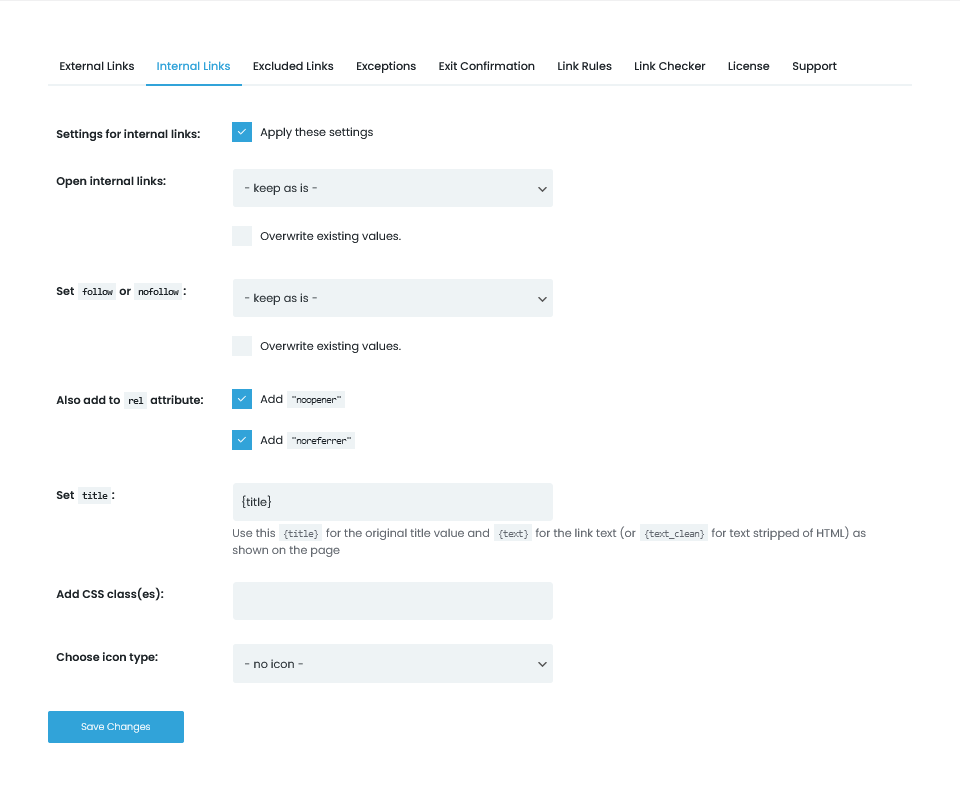 As already mentioned, WP Links main feature is managing external and internal links. But this plugin has many other useful features, and we will list them below.
– It enables a user to open links in a new tab or window
– For SEO purposes you can add follow or nofollow option to links
– Security feature of the WP Links plugin is the option to add noopener and noreferrer links
– Add link icons, ugc and set titles, CSS classes, and many other attributes
An exceptional feature of WP Links PRO is its Links Scanner. When you use Links Scanner, it will check all links on your site, and this scan won't slow down your site. The WP Links plugin will finish scan in a couple of minutes. After scanning, you will receive a detailed report about your site links (are they valid, do they work, and if you have links connected to potentially malicious sites).
There is also Exit configuration, Rebranding, a Centralized dashboard, and prompt support from developers of the WP Links plugin.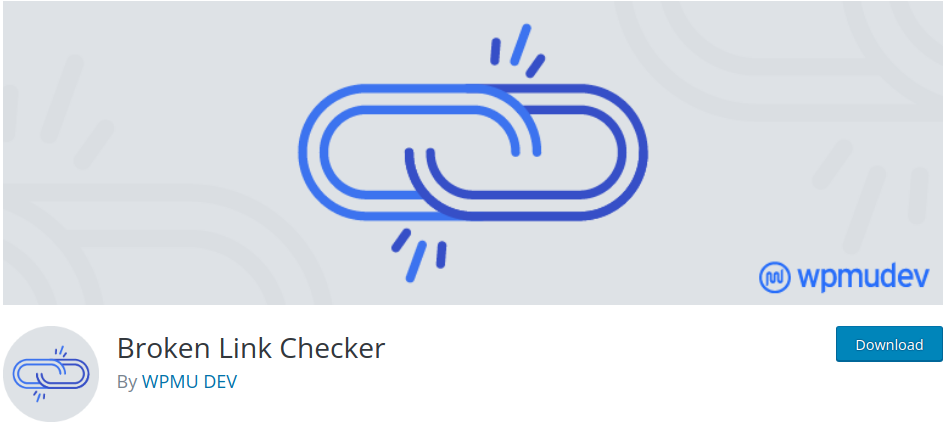 Broken Link Checker is free, open-source software. This WordPress plugin will monitor internal and external links on your website.
The Broken Link Checker plugin will test all your site links and find broken links, which you can fix immediately.
Features you will be able to use when you install this plugin are:
– Monitor all types of links in your posts, comments, blogs, and pages
– You will receive notification about links that don't work (missing nodirects, images, etc.)
– You can choose to receive notifications by email or on the Dashboard
Optional features of this plugin are:
– Broken links will display differently
– Monitor external and internal links in custom fields
– Exclude the option for a search engine to follow broken links (HTTP error 403/503)
Broken Link Checker currently has around 700.000+ active installations.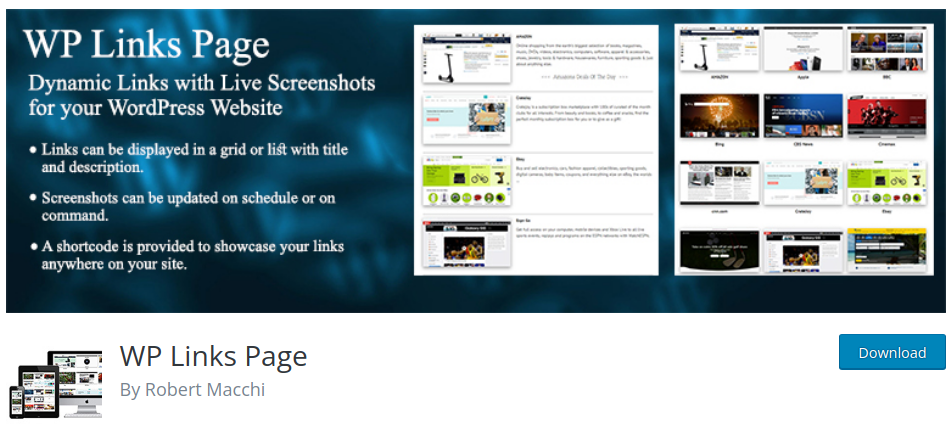 WP Links Page WordPress plugin is open source and a free one. The features of this plugin are slightly different from the two previously presented ones.
With WP Link Page, you can take screenshots of each link. After you create a dynamic link gallery using this plugin, you will have all screenshots saved in this gallery. The plugin will create the screenshots automatically. And you won't need to create links pages or images for every site.
Using the WP Links Page plugin you can display links in different views of your choice.
You just set a schedule for taking link screenshots, and you can edit or add links easily (the process is the same as adding blogs to your WordPress site).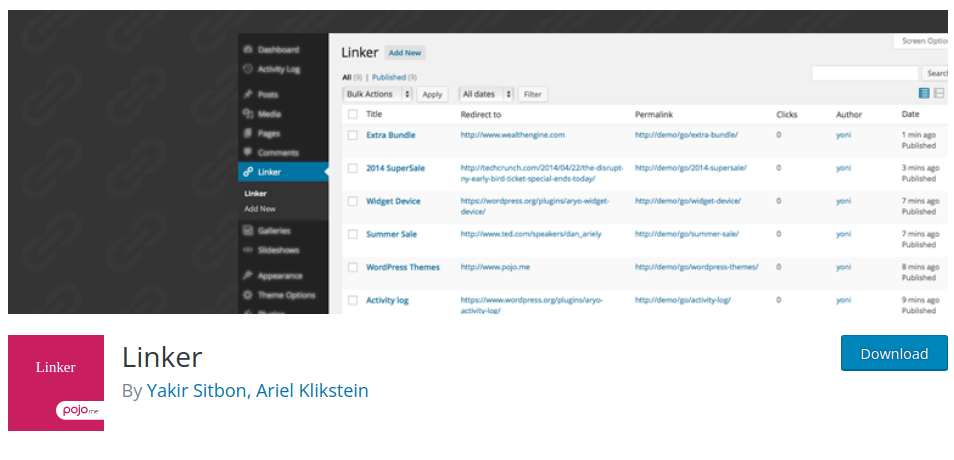 Use the Linker WordPress plugin to create a short link that will give you data about links frequently clicked by visitors on your site. This useful URL tool is fully compatible with Google Analytics.
Links will track all onboard clicks and short links in your domain. When you create short links using the Linker plugin, it will be easy to insert them into posts. Furthermore, this plugin will help you to manage all 301 redirects and perform other URL tasks. The Linker will track all affiliate links easily.
The Linker is a free WordPress plugin, and its main features are:
– Receive internal reporting about "Hits per link" using Linker
– User-Friendly Admin interface
– Easily set up a tracking feature on your website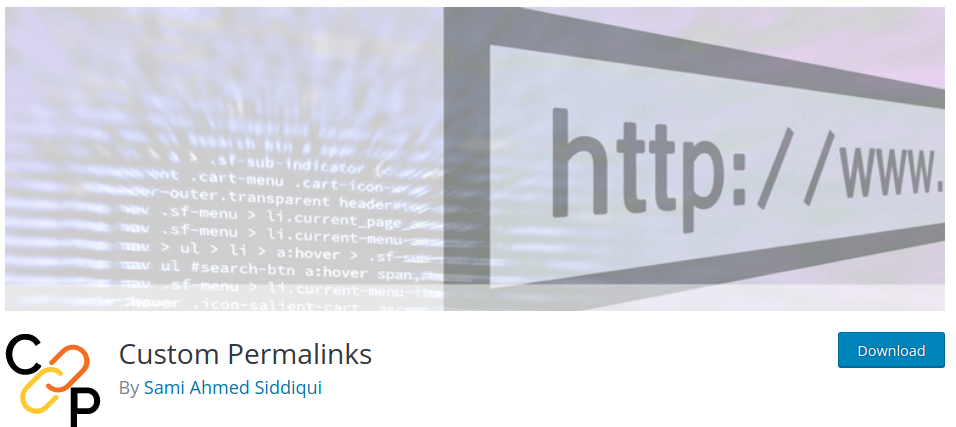 Custom Permalinks plugin main features, ones you can quickly using filters, are:
– Disable redirects
– Disable particular redirects
– Exclude permalink to be processed
– Exclude post type
– Exclude posts
– Allow accents letters
– Allow uppercase letters
– Allow redundant hyphens
– Manipulate permalink before saving
– Remove the "LIKE" query
Custom Permalinks plugin is a free WordPress plugin. Like previous ones, is open source software, and currently has around 100.000+ active installations.
Conclusion
Of all mentioned plugins best one to have is the WP Links plugin. It will not only manage your SEO, but help you make exceptions within set features, perform a scan that will save you a lot of time, and help you to have the best SEO content on your blogs, especially if you have sponsored links.