If you are wondering what tools social media managers use, stay with us.
This article will guide you through 6 terrific tools every social media manager should include in their everyday workflow.
RADAAR – an all-in-one platform for managers who handle many accounts
Wp Social – terrific tool to add social icons, counters, and social media buttons to any WP site
Other Perspectives – powerful social media analytics tool
Canva – a gigantic tool for the design of eye-catching graphics
Hootsuite – a platform that allows social media managers to manage accounts from one place
Post Planner- a tool that helps in content research and planning
RAADAR
This tool is created for small and mid-sized businesses that want a platform to manage their social media profiles.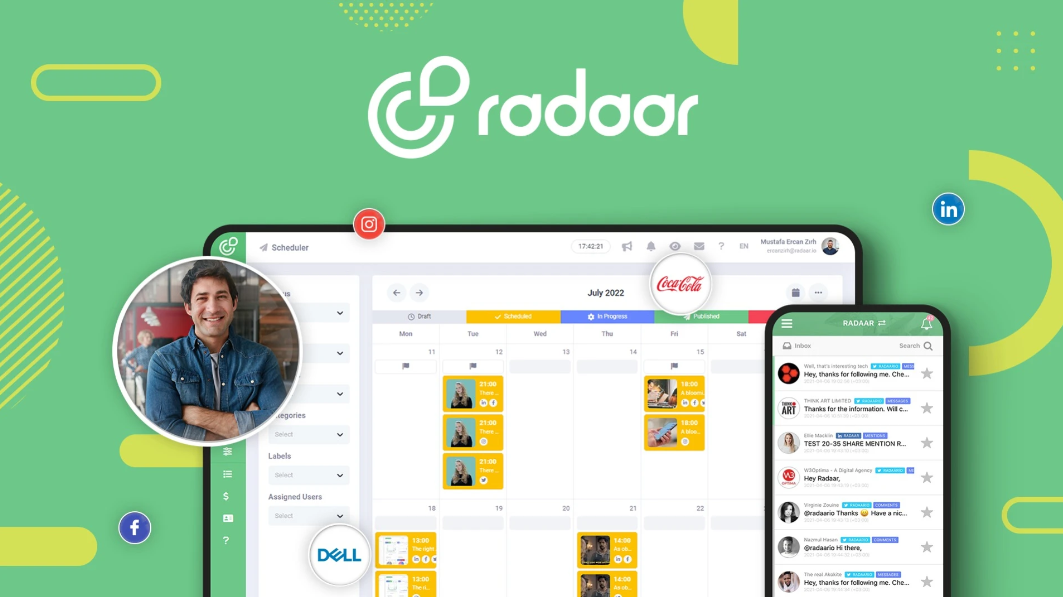 RAADAR can support different tasks – from scheduling and posting to analytics. The platform has many features like Scheduler, Social Media Inbox, and Social Media Monitoring. Additionally, it includes Analytics, Password and Task Manager, URL shortener, Landing Pages, RSS Feeds, and Stock Library.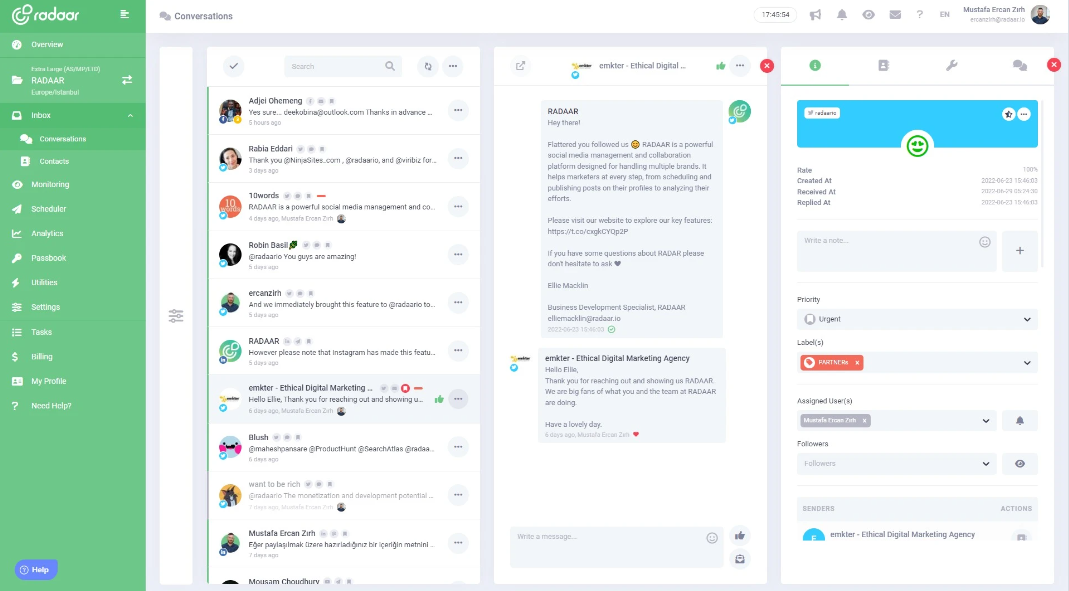 Social media platforms supported by RAADAR are Facebook, Twitter, Instagram, Pinterest, Telegram, LinkedIn, TikTok, Google, and WordPress.
Wp Social
This tool allows social media managers to add social icons, counters, and share buttons to WordPress sites.
Wp Social integrates with Facebook, Google, Twitter, LinkedIn, and WordPress.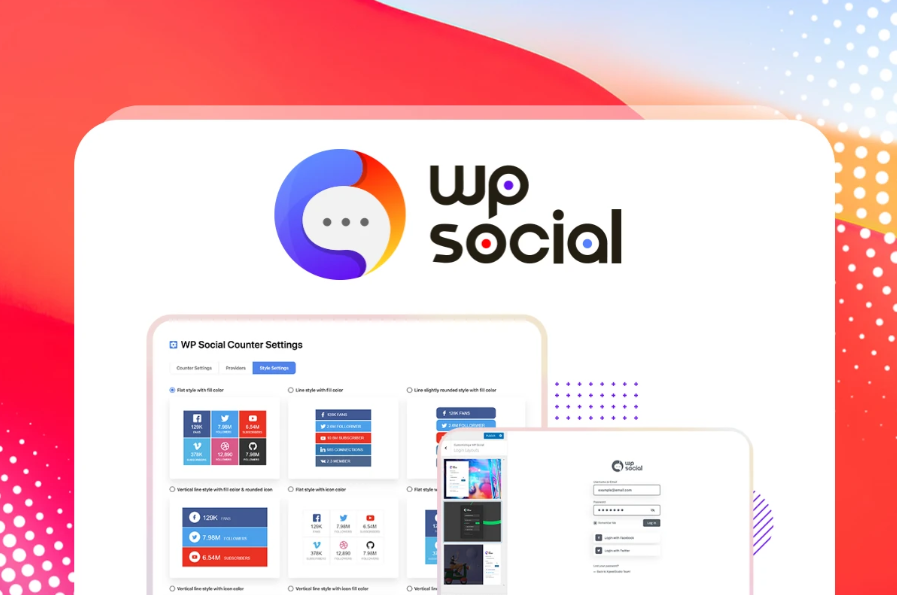 Users can log in to their WordPress site with their social media logins with ease. Additionally, users can customize their login layouts with customizable templates.
Plus, users can directly post their content to social media 15 networks, including Pinterest, Facebook, and Twitter.
When it comes to the social share buttons, Wp Social offers 15 different templates. Users can choose between horizontal and vertical layouts.
Users can manage custom login redirect URLs and decide whether they want to show or hide social login buttons for different pages.
Plus, users can choose between 11 hover effects and 18 icon styles and update the color, styles, and shapes of their icons.
Wp Social also tracks the number of social media fans, subscribers, and followers on 15 social media networks.
Lastly, adding the icons on the website and simple. You don't need coding knowledge to add icons to the site. You can place social icons anywhere on the website by inserting a simple shortcode.
Other Perspectives
This tool social media managers use is perfect if you want to track the results of your marketing efforts.
With Other perspectives, users can track the analytics on a user-friendly dashboard.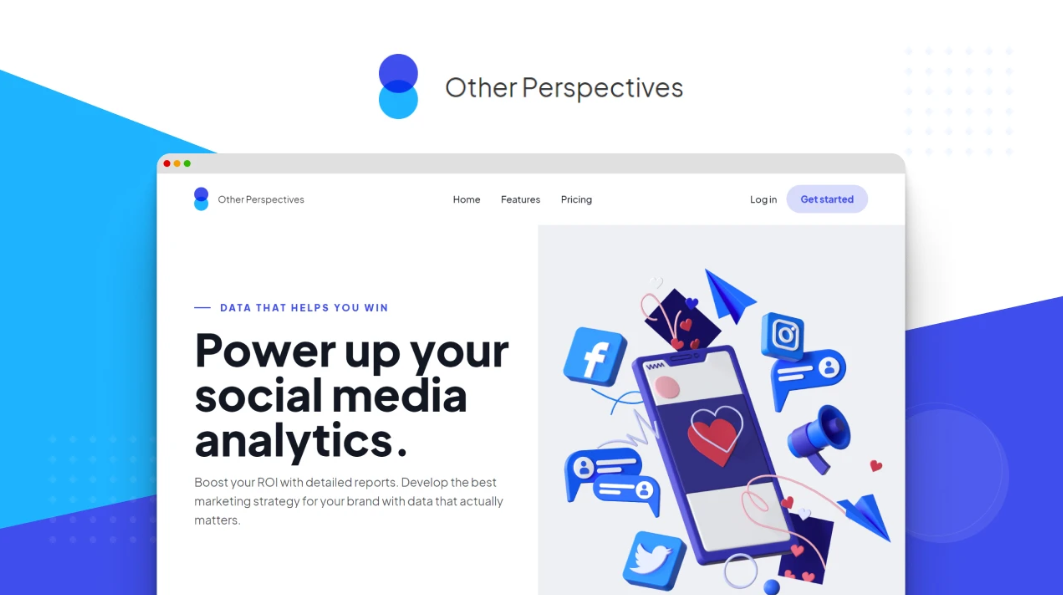 You can use Other Perspective if you want to do one of the following:
Grow your social media presence – Check what is your competition doing and what type of content brings them results
Develop content strategies – Track results to see what is your competition posting
Improve marketing performance – Boost your engagement by identifying what makes posts viral. Also, you can use the findings to improve your content strategy.
Generate reports – You can get vastly detailed reports on your marketing efforts. Reports are customizable and downloadable.
Competitive analysis – You can create a dashboard and add KPIs you need
Generate benchmarks – You can check your pages to improve your social media strategy.
The best thing about Other Perspective is that you can create a customizable dashboard within minutes. All data is presented in an easy-to-understand format.
Social media managers can compare their results to the industry or find powerful accounts in the industry for all main networks.
Canva
One of the favorite and most despised tools in the world of digital marketing is surely Canva.
Even though many designers claim Canva is not the actual design software, still, many digital marketers use it.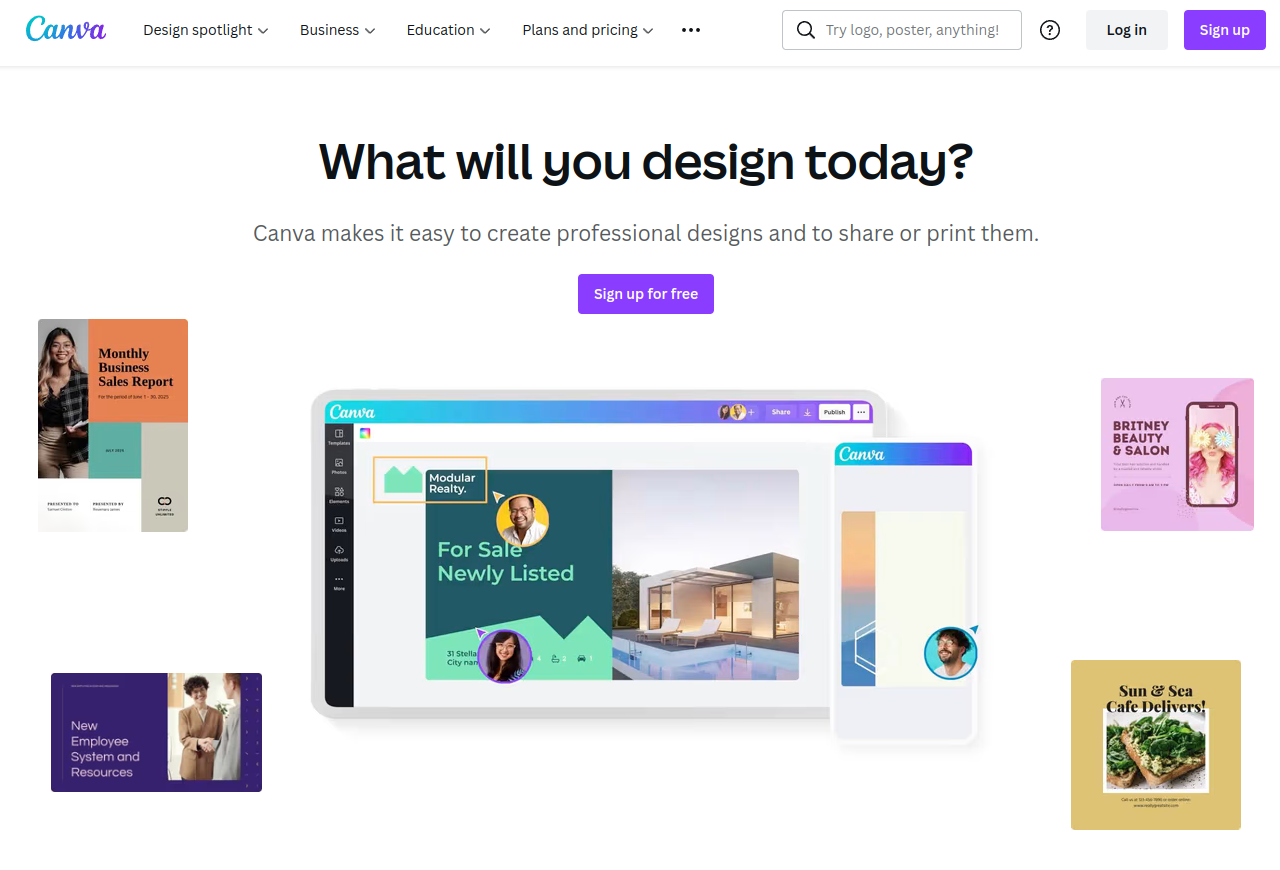 Canva offers thousands of pre-ready templates that users can then customize. Colors, fonts, and images can all be updated if you want to create a fully-branded design.
Users can create designs in various formats – for Instagram posts, stories, Youtube thumbnails, Facebook posts, and more. Plus, Canva offers templates for posters, presentations, cards, cover letters, CVs, logos, certificates, and more.
Also, you can create videos on Canva, and the software comes with a library of images you can use in your designs. The best thing is that many of the available images are free.
Hootsuite
Hootsuite is one of the most popular tools all social media managers use. The tool is used by over 18 million people worldwide and more than 800 Fortune 100 companies. Hootsuite can integrate with over 20 social media channels, allowing users to schedule content for them from one place.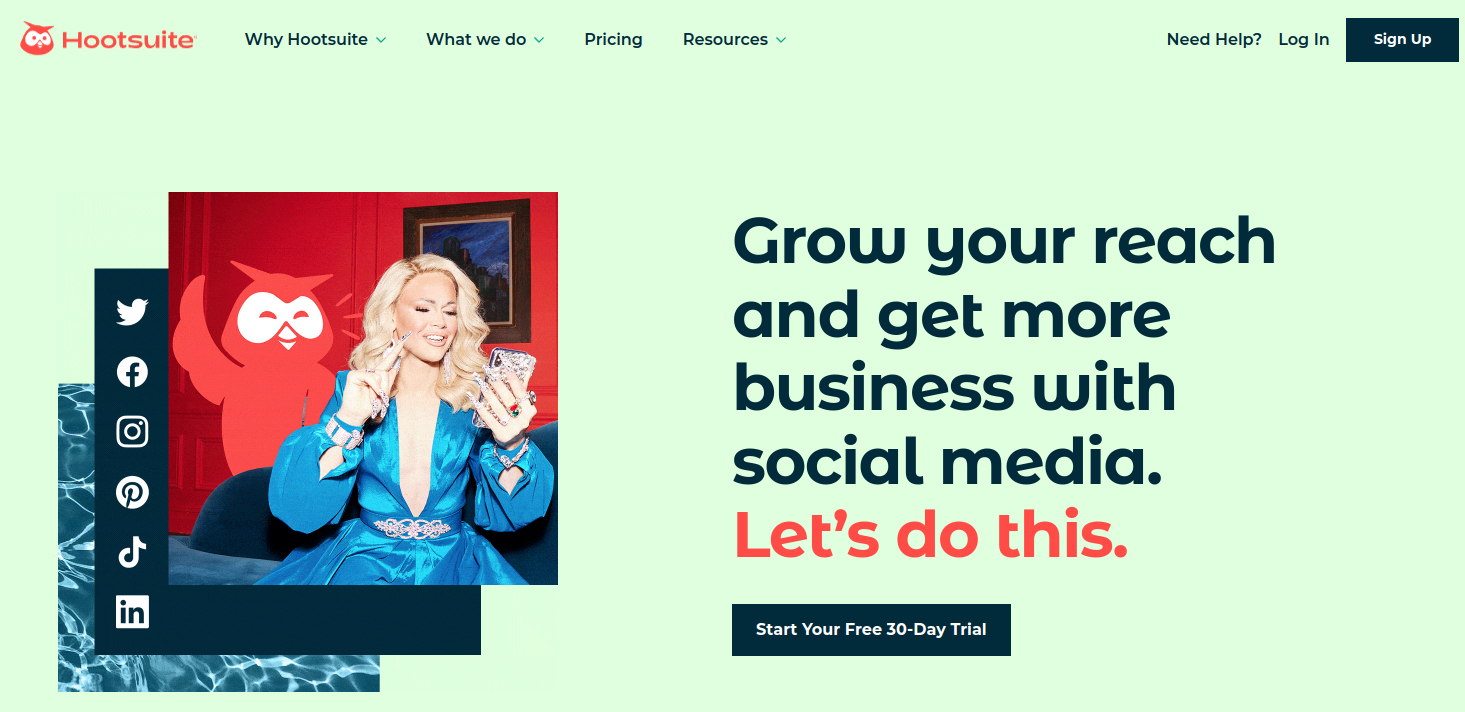 Hootsuite offers many possibilities for social media managers. Users can schedule posts and messages, track performance and current trends, and run social media ads from the platform.
With Hootsuite, social media managers can track brand awareness and follow what does audience says about the brand. It is easy to transform followers into customers and loyal audiences with Hootsuite.
Even though this software is primarily aimed at big companies, freelancers and smaller enterprises can enjoy it too.
Post Planner
Post Planner can help social media managers with three key things – find high-quality content, prepare a content calendar, and post consistently.
With the Find Tool, users can find content that is proven to engage the audience. Post Planner rates and curates content suggestions, helping social media managers to create a content-type-based schedule.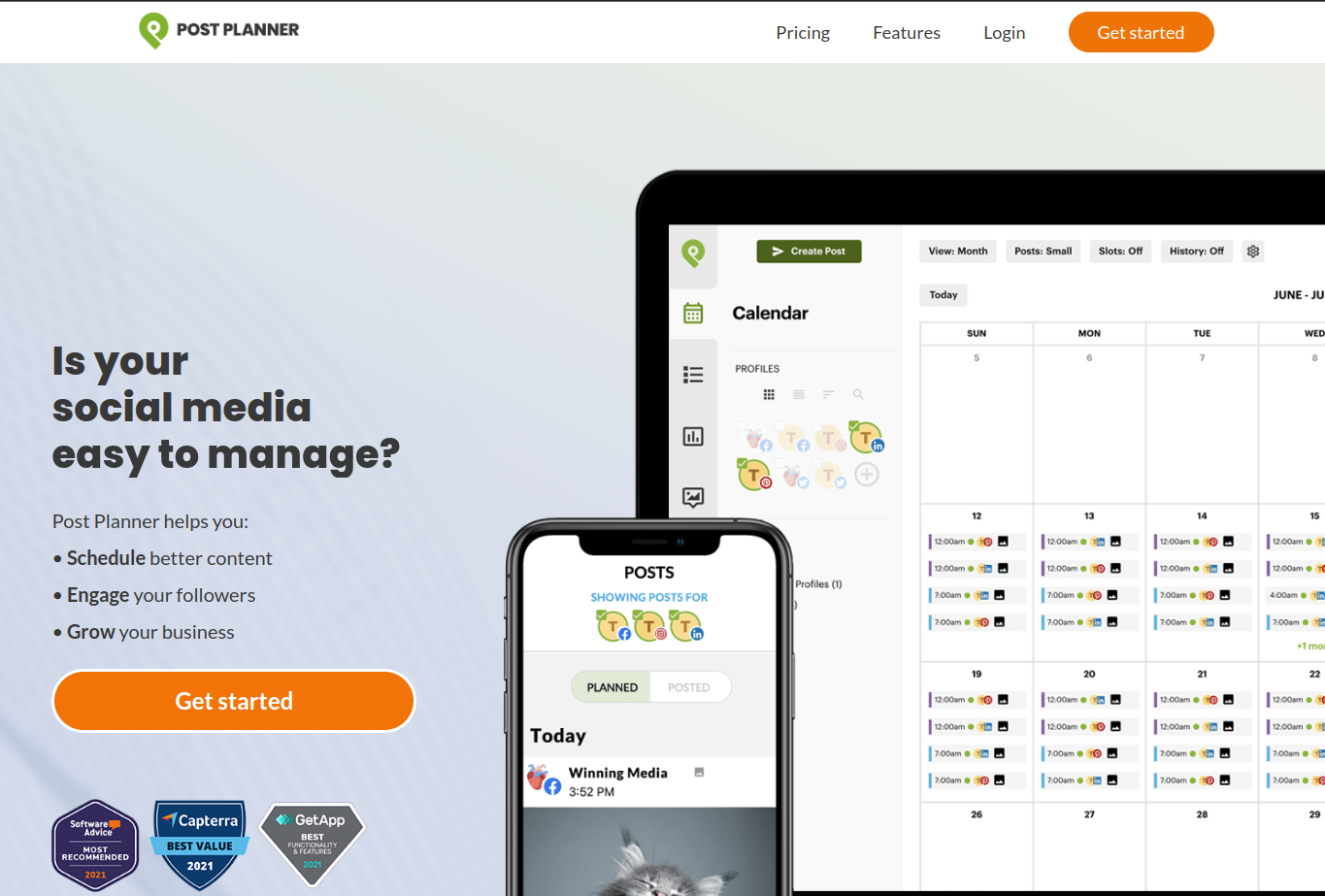 With this tool social media managers use, you can pick the content type for time slots you want to fill in. So, Post Planner will fill the content calendar with the chosen topics accordingly.
Users can schedule the content on top social networks like Facebook, Instagram, Twitter, Pinterest, TikTok, and LinkedIn.
The software curates the content from Google, Facebook, Twitter, RSS, Reddit, and Giphy.
Other features that can be useful to social media managers include post-recycling. This allows the reposting of the most successful posts automatically.
Lastly, users can save their posts in drafts, categorize posts by topics, analyze performance, or upload posts via Excel or CSV.
This tool social media managers use is a prodigious tool for small businesses, solopreneurs, agencies, and startups.
Social media managers use many different tools. From tools for scheduling and analytics to the ones that help them prepare the content calendars – the array of apps is wide.
This article presented you with only a scattering of tools social media managers use. The chosen apps largely depend on the needs and preferences of social media managers.
All social media tools on this list have terrific features and are overly affordable. If you have to pick only one from the list, go for RAADAR.
This social media tool has everything you need to manage social media posts on various networks.
Or, if you need something to connect your social media profiles to your WordPress website, choose WP Social.