The method of billing customers is an unavoidable evil. They're a necessary part of your work, and they're crucial to being paid on time and correctly. You can keep track of what payments have been received, what payments are pending, and what payments are past due by creating a well-formatted easy invoice. 
You must build one for these and other purposes. More significantly, it should be well-formatted and compliant with international standard invoice models. Following that, you'll do it by yourself to learn what a basic invoice is and how to create one, among other things.
What Is The Best Document Format For Creating A Simple Invoice?
Microsoft Word or Microsoft Excel are the two key alternatives. Both options have advantages and disadvantages. If your invoice would require a lot of mathematical calculations, you may want to reconsider using Word. Excel would be a safer option in this case.
Word is your best bet if you need a little more customization, such as increasing column widths or adding types. Adding prices to the program, on the other hand, maybe a challenge.
As a result, downloading and customizing a simple invoice template from a well-designed platform like WeInvoice could be the best choice.
1: WeInvoice
WeInvoice lives up to its developer's definition of "beautifully simple billing software." It has one of the most user-friendly interfaces I've seen, making setting up and using the tool a breeze.
The dashboard in WeInvoice stands out because it keeps track of your latest and previous invoices, as well as any unpaid amounts. Your data is organized into graphs and tables, making it simple to follow.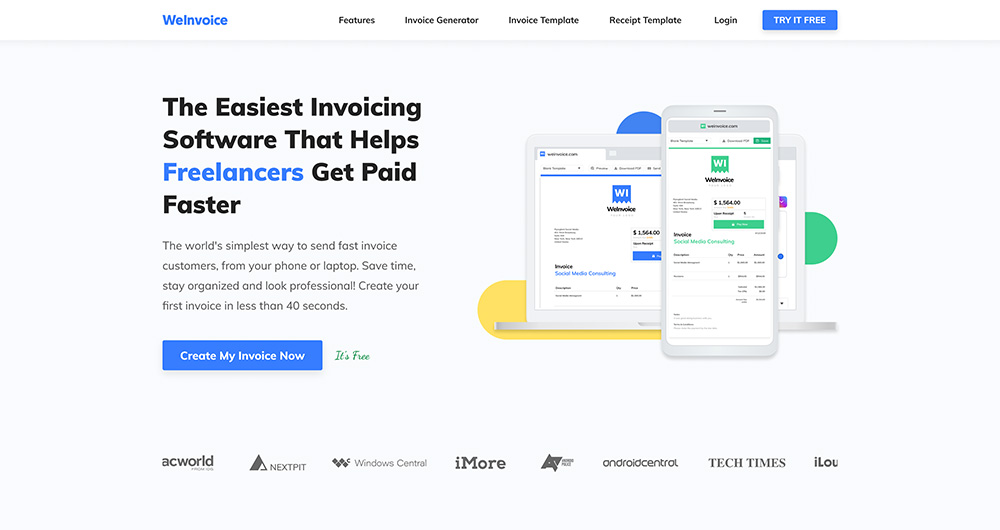 Most of the setup is done directly on the invoice. With a click and a few keystrokes, you can add products, tax rates, customers, and even payment terms. The information is saved through all of your invoices, both new and old, in WeInvoice.
WeInvoice, like some of the other platforms we've looked at, has a prototype you can check out.
2: PayPal
You will be surprised to learn that PayPal has its invoice-building tool, which is ideal for vendors who already use the platform for payment.
PayPal's free invoice templates are simple to customize and send through the PayPal Business app on the go. Customers pay with a single click using their PayPal account or a credit or debit card, and the funds are immediately credited to their account balance.
Old invoices are automatically saved in the system, and sending out reminders for unpaid bills is easy. On qualifying transactions, you'll even get Seller Security.
3: Zoho Invoice
Zoho Invoice is a great choice if you're looking for the best free accounting program to simplify the invoicing workflows. With Zoho Invoice's free edition, you can invoice up to five customers and automate up to five workflows from a single account. Through a client portal, you'll be able to customize and brand invoice templates, monitor expenditures and connect with customers. In addition, for project billing, you can use an automated time monitoring for yourself and your staff.
If you need to add more users, you won't have to upgrade to the next tier of Zoho Invoice, which costs $9 a month. For $2 a month or $20 per year, you can add another account.
Also read: How to Create Printable Invoice Templates Quickly
4: SlickPie
SlickPie, a free accounting program, is also worth investigating for your small business finances. Unlimited automatic receipt entries, 10 separate companies on one account, and email support are all included in the free version of this accounting program. It also enables you to generate quotations and forecasts that can be converted into professional invoices with ease. You can also add your PayPal and Stripe accounts for free with SlickPie. Customers will be able to pay their invoices online via a credit card or PayPal account, and you'll only have to pay the regular processing fees charged by PayPal and Stripe.
Reports seem to be a feature that this free accounting software lacks—the SlickPie website makes no mention of any built-in reporting capabilities. Other than SlickPie, you might want to explore other choices if you want to gain useful, high-level insights from your accounting software.
5: ZipBooks
ZipBooks is another excellent free software choice for small businesses. ZipBooks combines all of the essential features of accounting software into a single free account, including reports, bank syncing, billing, cost management, and invoicing.
If you want to accept online payments from your ZipBooks invoiced clients, you'll need to use Square or PayPal. For such purchases, you'll be charged the regular PayPal and Square fees.