Keeping an invoice template on hand, whether you run a small business or a big corporation, allows you to send invoices to clients and consumers more quickly and get paid on time. Whether you're managing marketing invoicing or simply tracking the duties, creating a dynamic marketing calendar will help you stay on track.
Take advantage of the free printable invoice templates provided by WeInvoice.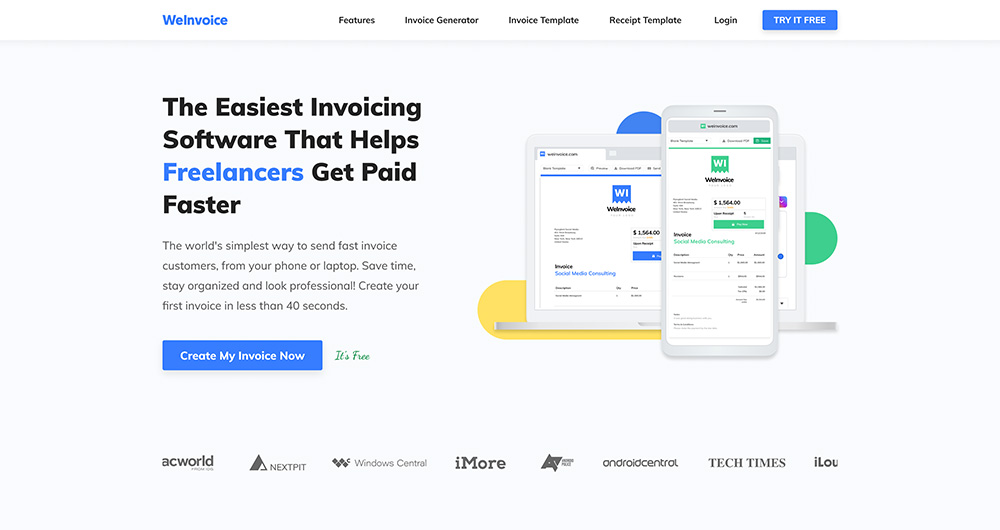 What Are the Benefits of Using Printable Invoice Templates?
Free printable invoices are useful because they save you time. To begin, you are already saving time and effort by not having to create your own template. Rather, you download one and personalize it with your company's details.
Second, you must fill in payment information such as price and quantity any time you need to submit an invoice. You can expect to be charged quicker if you can produce and submit the invoice quickly.
Other than saving time and being extremely convenient, printable invoice templates are great free invoice templates important for the following reasons.
All invoices generated with the template can be saved digitally, either in your system or in the cloud. Having all of your invoices in one place makes it easier to keep track of payments and finances.
Except for the payment information, the invoice already contains all of the necessary information. As a result, there are fewer chances of making mistakes resulting from the client or consumer conflicts.
Many people are unaware that invoices contribute to the value of the brand. Your company name, logo, and contact information will be printed on your invoice templates, making them more than just a means of payment but also a representation of your company.
Printable invoice templates can be customized, giving you more options. There's no need to create a new invoice if your company's logo, address, email, or phone number shifts. You can edit those details in the template, and you will have a new invoice ready to go. 
Are you tired of using just a single template? You can even download and save multiple templates for different types of payments, for example, separate invoice formats for customers and clients.
What Is The Best Way To Make A Printable Invoice?
Creating your own invoice template from scratch usually necessitates starting with a blank document or excel sheet and designing it from there. You must do all of the alignments, tables, and other details on your own. However, as we've already established, downloadable invoice templates save you the time and effort of creating your own template.
After downloading the template, fill in your company's information in the appropriate areas and save the final template to your system. Simply fill in the payment information and the person or group to whom you are submitting the invoice when you need to create one. Give it another look before pressing the print button. That's all it takes to always produce printable invoices quickly and easily.
How Do I Fill Out A Microsoft Word Printable Invoice?
A Word document can be directly downloaded and opened to create a printable invoice template. 
It will include all of the relevant sections, including a table for entering goods, their prices, quantity, tax information, and total amount, as well as sections for the company's details and information, the details of the individual or group being billed, the invoice number, and a table for entering items, their rates, quantity, tax information, and total amount. 
To fill out the printable invoice in Microsoft Word, enter all of the information in the appropriate pages.
Also read: 5 Free Online Tools to Kick-Start Your Small Business
How Do You Send Your Client Printable Invoices?
You can submit the invoice to your clients digitally via email or in printed form after you've filled in the information and created it. It's up to you and your clients to determine how you want the invoice to be sent. If you're sending the invoice by email, you can convert it from a Word document to a PDF file.
What Does A Printable Invoice Template Require?
Aside from a screen, you don't really need anything for a printable invoice design. For companies, WeInvoice offers printable invoice templates. Look through our models and save the ones you want. No need for fancy apps or editing programs; simply modify the initial template with your company's information and save the final template. For a printable invoice template, all you need is a machine with Microsoft Office installed.
Final Thoughts
Invoices are necessary documents for receiving and documenting payments in your company. With printable invoice models, you can create invoices easily and accurately. Save time and effort by concentrating on performance.
WeInvoice provides you with free printable invoice templates you can download and use without charge. Browse our library of templates and download them in Word or Excel format, depending on your needs. Make use of the free invoice templates to submit professional invoices to your employers and customers and ensure that you are always paid on time.