Grammar and spelling checker tools are crucial for editors and writers because these save time for editing and proofreading and make the piece better by detecting the mistakes that would otherwise stay unnoticed.
For non-English speakers, tools are crucial because they improve their language by showing them their errors.
Grammarly is probably the most famous spelling and grammar checker tool, but there are many other options you can try.
Here are the top 5 best Grammarly alternatives:
Ginger
WhiteSmoke
PerfectIt
Language Tool
Top 5 Best Grammarly Alternatives – Overview
Linguix
Linguix is the Ai-powered grammar and spelling checker tool that allows writers to instantly find mistakes in their writing, and eliminate them fast.
This tool checks the context of your sentences, helping writers to simplify and avoid complex sentences.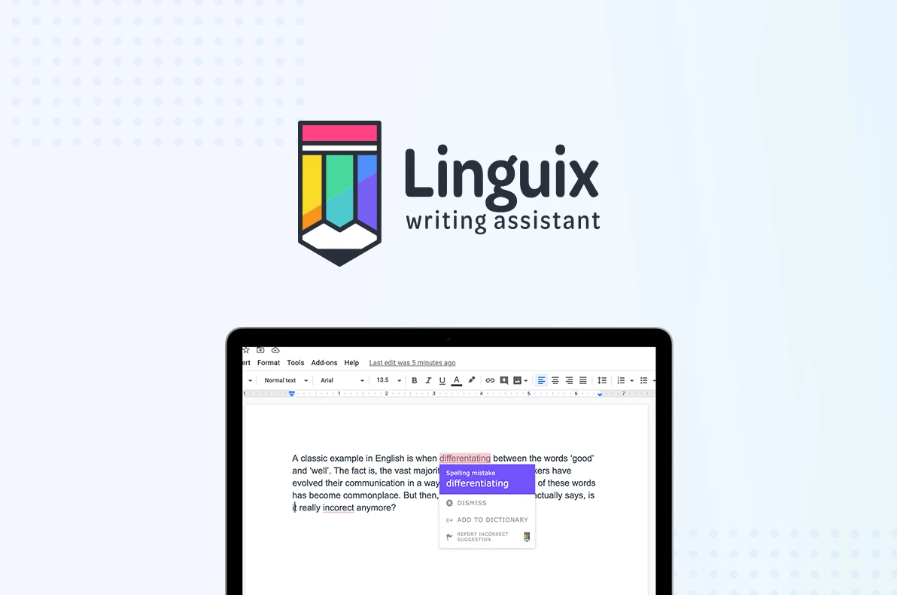 Writers can easily accept Linguix's suggestions. All that is needed is to click on the pop-up that appears and go through the recommendations, accepting them with a mouse click.
Linguix users can also use drafted shortcuts to write emails and social posts. They can also create their shortcuts and give them names. Later, when they want to use it, they should just type in the name, and the shortcut will instantly expand in the text.
Additionally, Linguix can easily integrate with various business tools and some of them are Google Docs, Slack, Asana, and Frase.io.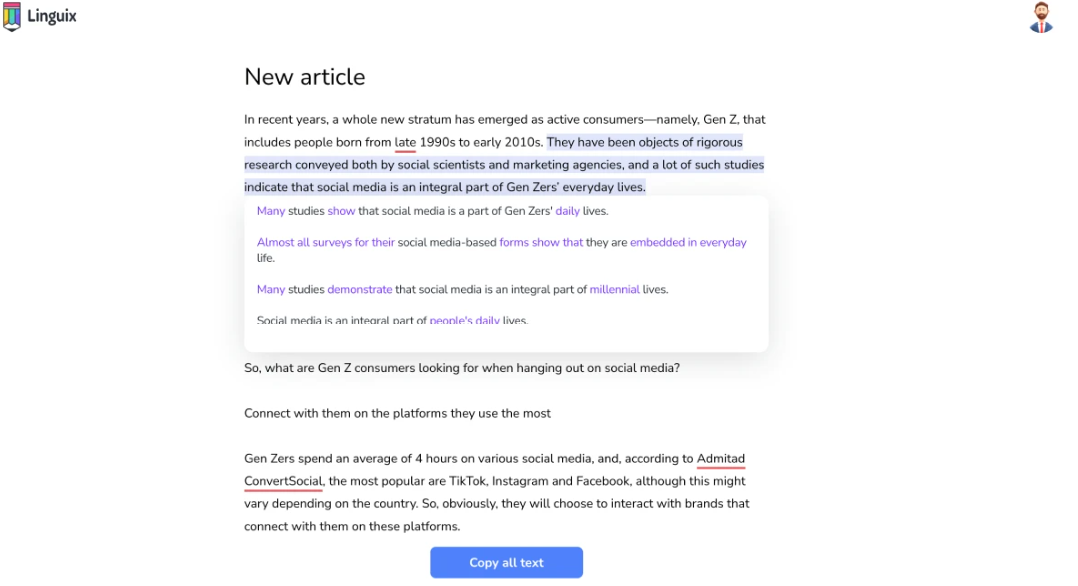 Users can access the platform from any device since they do not have to download an app or extension. They can also edit in the invisible mode or create brand standards for the whole team.
This terrific tool has three plans:
Single – $59
Double – $118
Multiple – $177
Ginger

Except for finding grammar and spelling mistakes, Ginger can read the text back to you. This is an excellent way to hear how your text sounds and to remove any strange phrases or sentences.
Additionally, Ginger has a powerful translation tool that can translate text into 40 languages. If you are not a native English speaker, grammar tutorials on the platform can help you improve your writing.
When it comes to the apps, Ginger has a desktop and mobile app as well as a Chrome extension. You can try its free version before you choose between three pricing plans: Monthly ($19.99 per month), Quarterly ($15.98 per month), and Annual ($12.48 per month).
WhiteSmoke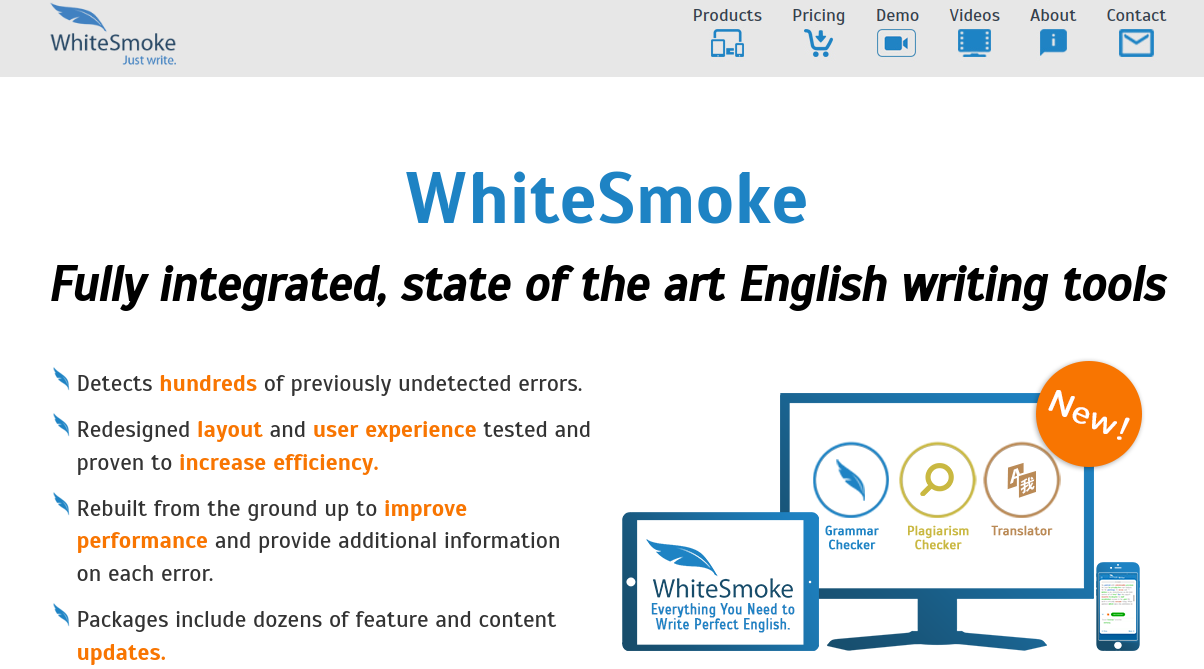 Similar to Ginger, WhiteSmoke was also around for a while. What makes this tool powerful is Natural Language Processing (NPL) – a feature that gives recommendations based on your writing style. This can help you to avoid your writing style becoming too flat and general.
WhiteSmoke also has a plagiarism checker, writing templates for various needs, a style checker, and a translation feature, but there is no free trial or free plan.
This is the tool for professional writers in fields like academia, law, or medicine. Writers who choose WhiteSmoke can pay for one of the three available pricing plans:
WhiteSmoke Web – $5.00 per month (one yearly payment of $59.95)
WhiteSmoke Premium – $6.66 per month (one yearly payment of $79.95)
WhiteSmoke Business – $11.50 per month (one yearly payment of $137.95)
PerfectIt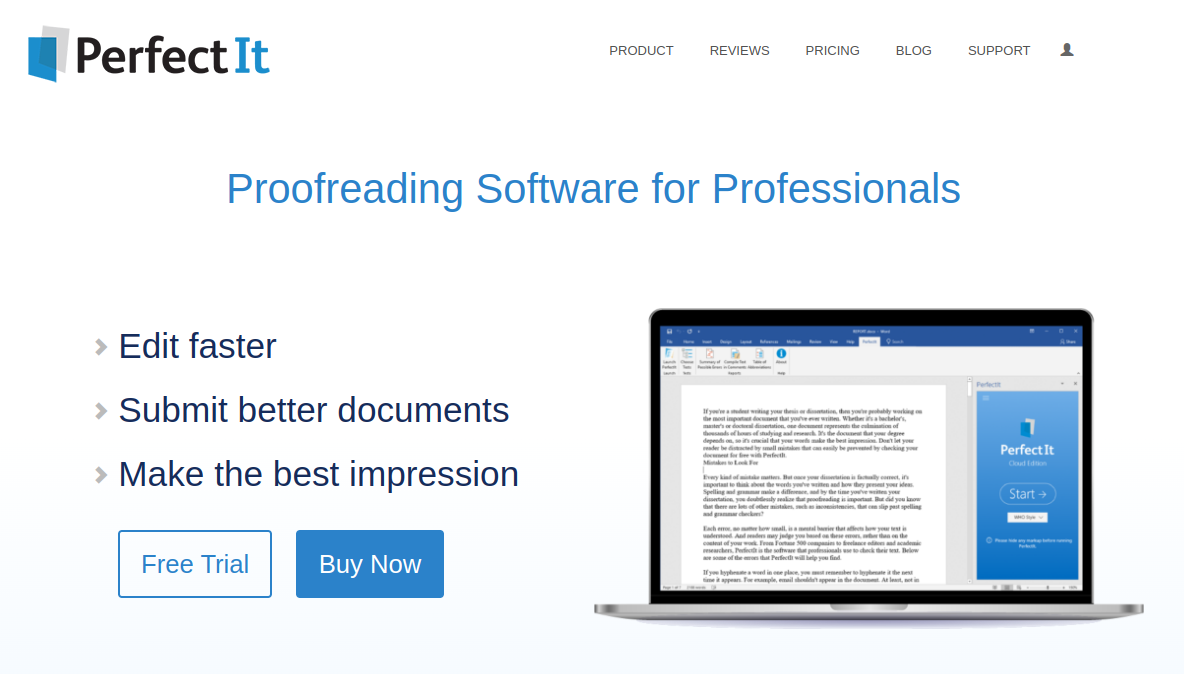 This tool is the perfect Grammarly alternative for editors. Instead of looking for grammar and spelling mistakes, PerfectIt checks the consistency of your document. Some mistakes it looks for are the use of dashes, hyphens, headings, capitalization, bullet points, and abbreviations.
PerfectIt will point out these mistakes, and you can further edit them in just a few clicks.
PerfectIt works with a few different sheets, including the Chicago Manual of Style, but you can also customize your own. With PerfectIt, you can generate reports of all edits.
The price of this tool is $70 per year.
Language Tool
If you want a tool similar to Grammarly in terms of the user interface, the Language Tool is for you.
Not only does it work similarly to Grammarly, but it also has similar features. Language tool checks spelling and grammar, punctuation, highlights passive voice, and you can edit all mistakes with just one mouse click.
If you work in your non-native language, Language Tool is for you. With the Mother tongue features, you can set your mother language and another language you write in, and the tool will then look for common mistakes between the two.
With Picky mode, you can also ensure you keep your voice and style throughout the writing and editing. The Language Tool comes in three different plans:
Monthly – $19.90 per month
Quarterly – $13 per month
Yearly – $59.90 (comes to $4.99 per month)
What tool to use? Final Verdict
And while all of these tools are a terrific alternative to Grammarly, we suggest Linguix as the best writing tool.
And while all other tools on this list have tremendous features, Linguix stands out because of its Al-powered interface that lets you create writing shortcuts and make writing processes automatic and fast.
Also, multiple available integration options will help users manage their business efficiently.